Meeting Notes: Better Results with Half the Work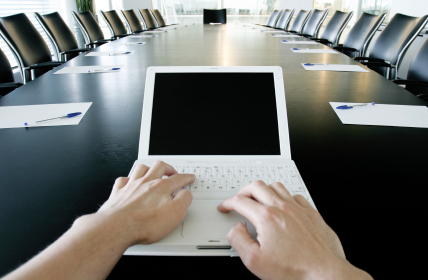 Is it your turn to take notes at an upcoming meeting? Give yourself and everyone else a break with a simple, cut-to-the chase method: record only what's essential and ignore the fluff.
Last week, Leslie outlined the basics on managing meetings in her post on How to Host an Effective Virtual Meeting. This week, we'll narrow our focus to a few easy ways to capture what really matters in your meetings — critical decisions, actions, and next steps. If you absolutely need a literal record of who said what, consider doing a voice recording or video of your meeting. (Most conferencing software products offer recordings as an option at a small additional fee.)
Try one or more of these tips for your own note taking:
3 Tips for Taking Simple & Effective Notes at Meetings
Type the notes during the the meeting. It takes a little practice, but it's much more efficient. Use a numbered agenda as the starting point and capture action items and brief notes under each numbered agenda item. The benefit is combining the agenda and notes in a single document (that's one less document to keep track of), and best of all, your note-taking duties are done when the meeting's done.
Keep the notes as brief as possible. Only capture what's most critical. Too much typing can be distracting. Record decisions and actions. Avoid statements like "discussed [fill in the blank] topic." This is not informative. Was a decision made? What action will be taken? What was the upshot of the discussion?
Save the meeting notes in a shared space like a wiki page or a shared document in Google Docs for easy access and editing.  In the past, you had to distribute the notes to meeting participants and then collate everyone's changes. This was time-consuming and a poor use of everyone's time. Today, you can have participants edit directly in a shared document (and one that will even show you the revision history.)
Example of An Agenda and Notes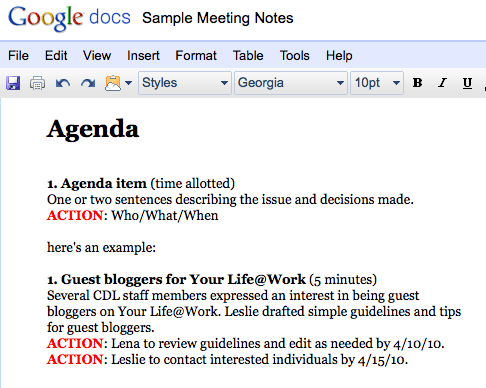 This approach may sound simplistic, yet it's effective and fast. With the time you save, you can devote your energy to making sure meeting participants know what they have agreed to do and what their deadlines are.  A simple way to do this is to create a table at the top of your meeting notes that pulls out this important information.  Here are the essentials to track:
Who is responsible.
What is the action.
When is it due.
It's useful to have a general Notes column for brief comments or status updates.
Example of An Action Table
Your action table might look something like this:
| | | | |
| --- | --- | --- | --- |
| Who is responsible? | What is the action (task)? | When is it due? | Notes |
| Leslie | write blog post | 11/3/10 | draft in progress |
| Lena | write blog post | 11/17/10 | topic to be decided |
Be sure to get your team's agreement in advance before trying these methods. Find out how much context you are expected to record about decisions, actions, issue background, etc. For example, do you need a record of whose idea it was and what the alternative ideas were, or is it sufficient to simply record the final decision? Talk with your team and manager beforehand.
"A meeting is an event where minutes are taken and hours wasted." — James T. Kirk (12 Leadership Lessons From the Bridge of the Starship Enterprise)
Now, It's Your Turn
1. Briefly skim these articles:
How to Record Useful Meeting Minutes (http://www.effectivemeetings.com/meetingbasics/minutes.asp)
4 Top Tips on How to Take Meeting Minutes
2. Read our previous post How to Embrace Innovation for why it's good to share meeting notes on a screen during the meeting (see "Start with a Simple Innovation").
What Method Works for You?
Do you have a favorite method for taking notes or tips you'd like to share? We'd love to hear them. Send an email to us at yourlifeatwork@gmail.com or comment below.