Mass Digitization
Mass Digitization of UC Library Collections
Since 2005, UC libraries have digitized millions of books through participation in mass digitization projects with Google and Internet Archive. As of early 2020, nine of ten UC campuses and both Regional Library Facilities have participated in these system-wide mass digitization efforts.
The mass digitization of UC library collections gives students, faculty, researchers, and the public expanded access to knowledge, and helps UC meet these goals:
Enhance student and faculty research by increasing awareness, discovery, and access to UC's collections.
Open new fields of academic inquiry and scholarship, for example by enabling computational textual analysis of digitized content.
Fulfill our public service mission by opening access to works in the public domain.
Ensure long term availability of UC collections by preserving, protecting, and efficiently managing content.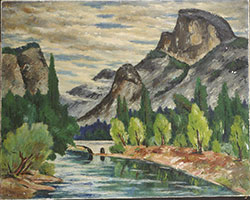 Items digitized as of August 2023
1,446,801 full view volumes
4,670,531 volumes
If all 4,670,531 volumes were stacked on top of each other they'd be as tall as  82 Half Domes!
Mass Digitization Team
| Name | Title | Contact |
| --- | --- | --- |
| Ewing, Renata | Service Manager, HathiTrust & Digital Content | View profile |
| Fogel, Paul | Service Manager, Google Books & Content Digitization | View profile |