Paul Fogel Staff Profile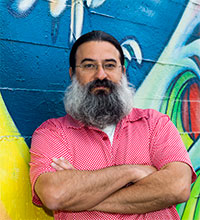 Program / Service
Publishing, Archives, and Digitization
Job Title
Service Manager, Digitization & Digital Content
Responsibilities
Paul provides technical leadership for UC's collaborative work on mass digitization of books across the UC libraries. He coordinates data flows and technical decisions across UC campuses and digitization partners, and defines and implements technical standards necessary for many aspects of the digitization processes. A major part of Paul's work involves the integration and synthesis of diverse data sources and systems. Paul is also in charge of ongoing mass digitization technical operations at CDL.
Education
M.L.I.S., San Jose State University
B.A., New York University
Background
Paul received his MLIS from San Jose State in 2002 and began working at the California Digital Library as part of an internship.  In his time at CDL, Paul has been involved in a broad range of functions relating to digital content creation and management.
Committees / Affiliations
LinkedIn Profile
https://www.linkedin.com/in/paul-fogel