SCP Update – February 2021
For the detailed list of net increase or decrease of titles from CDL licensed and selected open access collections, see the distribution statistics report for January 2021.
SCP Overview 
Monthly Updates 
The following chart and table show the overall SCP cataloging activities and workload in January. There are more serials added this month, two new tier 2 CJK resources, 100 Chinese historical newspapers via Apabi and three Japanese titles via Toyo Keizai Digital Content Library: Weekly Toyo Keizai (1997-), Japan Company Handbook (2006-), Hitotsubashi business review (2006-): please click the linked collection titles to see CDLINFO announcements for details, as well as new journal titles from EBSCO and Gale.
On SILS project, SCP records migrated to CDL IZ were delivered on earlier January, Kate Garvey-Clasby has reviewed them based on ILSDC checklist, and data so far seems to have migrated as expected. Meanwhile Kate also worked on replacing some SCP non-Unicode records if they have special characters that may cause problem for migration.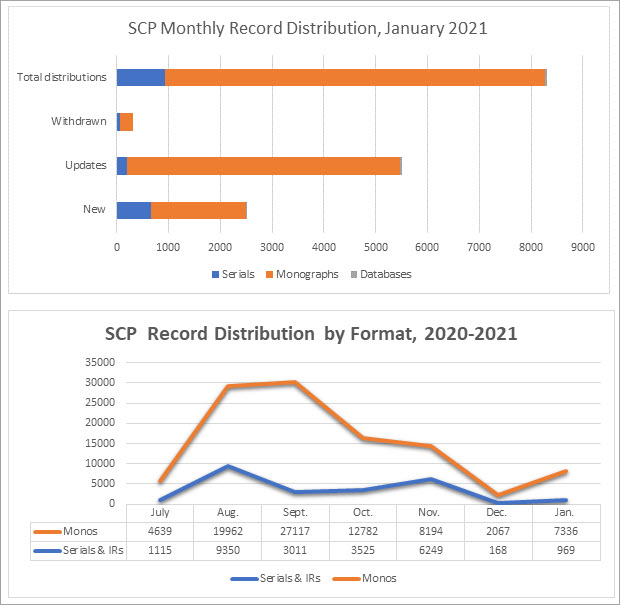 SCP Monthly Record Distribution, December 2020
|   | New | Updates | Withdrawn | Total distributions |
| --- | --- | --- | --- | --- |
| Serials | 657 | 208 | 74 | 939 |
| Monographs | 1835 | 5265 | 236 | 7336 |
| Databases | 1 | 29 | 0 | 30 |
As of January 23, 2021, SCP manages a total of: 
Databases:  1,211 records; 1,217 package links
Monographs:  1,219,480 records; 1,246,316 package links
Serials:  89,113, records; 120,467 package links
Cataloging Note 
Routine cataloging by SCP may be delayed due to the migration to SILS, cataloging of new acquisitions, and reduced capacity due to the COVID-19 work from home recommendation. If a package is delayed over three months, or you have concerns regarding access to CDL content, please report to the CDL Helpline. Thank you for your patience and understanding during this time. 
---
Serials and Databases 
Major Net Increases 
EBSCO journals (+527 titles) 

Academic search complete online journals (+321 titles) 
Business source complete online journals (+191 titles) 

Contemporary women's issues online journals (+38 titles) 
Open access resource  selected by the UC Libraries (+68 titles) 
Modern newspaper in China, 1840-1949 online newspapers (NEW collection +101 titles) 
Serials Cataloging Transition Phase II 
As Monday, November 23, 2020, SCP completed switching all non-Chinese print serials to online records. As a result, only 600+ Chinese titles (about 1.4% of the project) remain to be manually switched.  For the details about processing, please see CDLINFO article and Phase II FAQ page. 
---
Monographs 
Major Net Increases  
ACM conference proceedings (+84 titles) 
ASCE library monographs (+16 titles)
Cambridge online monographs (+116 titles)
CRC Press. CRCnetBASE online monographs (+277 titles)
Elsevier monographs (+65 titles in 15 subjects) 
IEEE Xplore online conference proceedings (+153 titles) 
JSTOR monographs (+490 titles) 
Open access resource  selected by the UC Libraries (+16 titles) 

Luminos online monographs (+10 titles)
Taylor & Francis online monographs (+8 titles)

SpringerLink monographs (+533 titles in 17 subjects)  

Biomedical and life sciences (+35 titles) 
Computer science (+145 titles) 
Education (+50 titles)
Literature, cultural and media studies (+45 titles) 
Mathematics and statistics (+52 titles) 
Social sciences (+46 titles) 
---
DDA Programs 
Programs with Updated Number as of February 2, 2021 
Airiti DDA (4,876 discovery records, 930 purchased titles) 
JSTOR CDL DDA pilot (7,730 discovery records, 2,723 purchased titles) 
Programs With No Change 
CDL EBA databases. ProQuest (53 titles) 
CDL EBA databases. ProQuest history vault ( 44 titles) 
CNPeReading online monographs (729 purchased titles) 
CRC Press ENGnetBASE online monographs (406 purchased titles)  

2013 package (105 titles) 
2014 package (64 titles) 
2015 package (133 titles) 
2016 package (104 titles) 

EBSCO Japanese online monographs (466 purchased titles)
Maruzen eBook Library online monographs (333 purchased titles)  
YBP/Ebrary online monographs via ProQuest (665 purchased titles) 
---
CDL Helpline 
Please report to CDL Helpline on 
Cataloging Delays (if more than three months): A title might have been missed on the vendor title list, UC-eLinks (SFX) might have not yet been activated, OCLC record might have not been available yet, to name a few things that cause cataloging delays. It usually takes about two-three months for OCLC records to become available or for items to become available for SFX activation when new titles are added to an existing collection. 
Cataloging Errors: Please include the OCLC Number (preferred), ISSN, or ISBN in the 'Record Locator' section of the form. 
 
---
Useful Links