SCP Update – January 2021
For the detailed list of net increase or decrease of titles from CDL licensed and selected open access collections, see the distribution statistics report for December 2020.
SCP Overview 
Monthly Updates 
The following chart and table show the overall SCP cataloging activities and workload in December before the last distribution file on Monday, December 14.
On the SILS project, the files Kate Garvey-Clasby extracted and prepared for CDL/SCP migration were submitted to Ex Libris and accepted.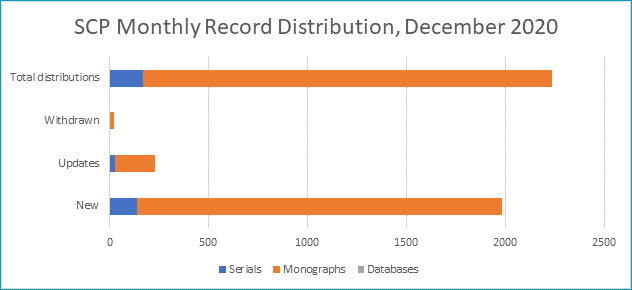 SCP Monthly Record Distribution, December 2020
|   | New | Updates | Withdrawn | Total distributions |
| --- | --- | --- | --- | --- |
| Serials | 140 | 27 | 1 | 168 |
| Monographs | 1845 | 200 | 22 | 2067 |
| Databases | 0 | 0 | 0 | 0 |
As of December 12, 2020, SCP manages a total of: 
Databases: 1,207 records;  1,213 package links
Monographs: 1,217,663 records;  1,244,485 package links
Serials: 88,687 records; 119,712 package links
Cataloging Note 
Routine cataloging by SCP may be delayed due to the migration to SILS, cataloging of new acquisitions, and reduced capacity due to the COVID-19 work from home recommendation. If a package is delayed over three months, or you have concerns regarding access to CDL content, please report to the CDL Helpline. Thank you for your patience and understanding during this time. 
---
Serials and Databases 
Major Net Increases 
Business source complete online journals (+139 titles) 
Contemporary women's issues online journals (+23 titles) 
Serials Cataloging Transition Phase II 
As Monday, November 23, 2020, SCP completed switching all non-Chinese print serials to online records. As a result, only 600+ Chinese titles (about 1.4% of the project) remain to be manually switched.  For the details about processing, please see CDLINFO article and Phase II FAQ page. 
---
Monographs 
Major Net Increases  
ACM conference proceedings (+75 titles) 
ACS Symposium series online monographs (+33 titles)
Elsevier monographs (+117 titles in 18 subjects) 
IEEE Xplore online conference proceedings (+31 titles) 
JSTOR monographs (+414 titles) 
Knovel Library online monographs (+104 titles)
Morgan & Claypool online monographs. Synthesis Collection 10 (+32 titles)
OECD iLibrary online monographs (+17 titles) 
Open access resource  selected by the UC Libraries (+19 titles) 

Taylor & Francis online monographs (+19 titles)

Project MUSE online monographs (+119 titles)
Royal Society of Chemistry online monographs (+10 titles)
Sage Research Methods monographs (+143 titles)

Online datasets (+78 titles)
Books & reference collection online monographs (+51 titles)

SpringerLink monographs (+586 titles in 18 subjects)  

Biomedical and life sciences (+68 titles) 
Computer science (+105 titles) 
Economics and finance (+47 titles) 
Education (+40 titles)
Literature, cultural and media studies (+40 titles) 
Mathematics and statistics (+51 titles) 
Social sciences (+45 titles) 

Wiley online monographs (+94 titles) 
---
DDA Programs 
Programs with Updated Number as of January 6, 2021 
Airiti DDA (4,876 discovery records, 929 purchased titles) 
JSTOR CDL DDA pilot (7,240 discovery records, 2,723 purchased titles) 
Programs With No Change 
CDL EBA databases. ProQuest (53 titles) 
CDL EBA databases. ProQuest history vault ( 44 titles) 
CNPeReading online monographs (729 purchased titles) 
CRC Press ENGnetBASE online monographs (406 purchased titles)  

2013 package (105 titles) 
2014 package (64 titles) 
2015 package (133 titles) 
2016 package (104 titles) 

EBSCO Japanese online monographs (466 purchased titles)
Maruzen eBook Library online monographs (333 purchased titles)  
YBP/Ebrary online monographs via ProQuest (665 purchased titles) 
---
CDL Helpline 
Please report to CDL Helpline on 
Cataloging Delays (if more than three months): A title might have been missed on the vendor title list, UC-eLinks (SFX) might have not yet been activated, OCLC record might have not been available yet, to name a few things that cause cataloging delays. It usually takes about two-three months for OCLC records to become available or for items to become available for SFX activation when new titles are added to an existing collection. 
Cataloging Errors: Please include the OCLC Number (preferred), ISSN, or ISBN in the 'Record Locator' section of the form. 
---
Useful Links 
SCP Cataloging Priorities
SCP Standing Cataloging Priorities
SCP Updates & Statistics
E-Resources Tracking 
Request Cataloging for A New Collection (Status)
Request Cataloging for Individual OA Journal Titles (Status)