SCP Serials Cataloging Switching to Separate Record Approach: Phase II
Starting April 1, 2019, SCP catalogers began using the separate record approach for cataloging electronic serials.
Note: The change impacts how users see CDL online resources in their local catalog. The display of serial records will vary during the transition. Some titles will display links on the print version, while most newly cataloged and converted titles will display on the online version. When the conversion is completed, print holdings in your local library will only reflect your print holdings; online holdings will only be on the online record. Local library staff need to be aware of the change in order to guide users to access serials in whichever format (print or online) that contains the holdings they are looking for. See previous CDLINFO article for details. If you have any questions, please contact your campus SCP liaison.
The switch is being implemented in two Phases:
Phase I. SCP catalogs new journal titles (including new journals with earlier titles) that did not have existing SCP records; distribution of these records began on April 8, 2019.
Phase II. SCP begins retrospective conversion of existing print version serials to be converted to online version records.
Phase II implementation
Timeline: After consulting with members of SCP-AC and SCP system liaisons, the SCP plan for the Phase II implementation is as follows:
On August 19, 2019, SCP sends the initial DEL only records. This group of 800+ print records are from all packages; they already have equivalent online records distributed in the past by SCP. The DEL record will not have "rc" in the 599 since there are no NEW "rc" pairs.
For example, see: OCLC#52697816 (print) / #163567120 (online)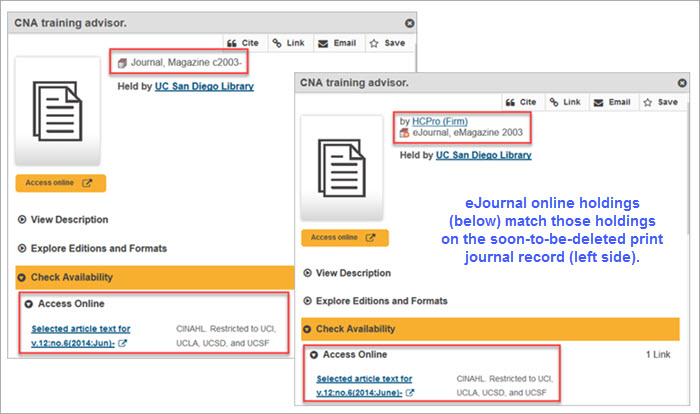 2. Starting September 1, 2019, SCP will take a package by package approach to convert print records to online records. We expect to send out most of a package at one time. These records will have both print 599 DEL "rc" and online 599 NEW "rc" records. Most importantly, the NEW and DEL will be distributed in the same file.
3. The Phase II completion date is TBD.
Scope:
The number of print records SCP currently has is 44,000+. The number of SCP print records each campus has may vary due to campus participation for Tier 1 & 2 resources.
The number of affected packages is 200+. Some have thousands of records while others have only a few.
The overlapping contents for these titles using print records is 47%, as we have about 65,000 active links for these 44,000+ titles. For titles overlapping across packages, the record will be changed the first time encountered.
Possible strategies: SCP will develop a variety of strategies for batch processing. Strategies will include the identification of online records from the 776 field, the transference of coverage information from print version records to online version records, setting (and deleting) holdings as appropriate in OCLC and the creation of Local Holdings Records (LHR) for online records.
SCP may also utilize some of the following strategies when working package by package:
Packages that have better and more online records (CONSER) may be processed first.
Packages that have more print records with 776 may be processed than those that don't.
Packages that have larger number for batch transfer data from print to online records may likely be candidates for earlier processing.
Packages in western languages may be processed before Chinese language packages.
Communication:
Notification will be sent out to SCP-AC & SCPSYS lists when weekly serials files including Phase II packages with subject line: Phase II Notification: [package name].

DEL only file for the print records that have equivalent online records SCP already distributed in the past.
When the bulk number of a package has been completed and included both DEL "rc" for print records and NEW "rc" for online records, records that require some manual intervention may have some delay before distribution.

A progress report will be included in SCP Monthly Update.
Phase II FAQ page: A FAQ page in Google Doc will be updated as needed.
During Phase II implementation, SCP will monitor the transition, try to resolve any issues raised, and minimize the impact on cataloging as much as possible. If you have questions or concerns, please contact Shi Deng (sdeng@ucsd.edu), Becky Culbertson (rculbertson@ucsd.edu), or Kate Garvey Clasby (kgarveyclasby@ucsd.edu).