An Easy Way To Jumpstart Your Strategic Plan: SWOT
Strategic planning doesn't have to be a daunting and lengthy process. The goal is really a simple one: to help you understand your world and build a road map to guide your efforts. There are many painless ways to achieve the results that you want.
We'd like to share one easy tool for team participation and engagement. Whether you're in a business, academic, or non-profit environment, you are facing a competitive environment where money and resources are scarce. This analysis tool can help you focus your attention on the specific success factors that are right for your team.
The tool is called a SWOT analysis. SWOT stands for Strengths and Weaknesses, Opportunities and Threats. Here's what it means:
Strengths are those positive internal attributes that strengthen your business or team. You can develop plans to capitalize on those strengths.
Weaknesses are those negative internal attributes that are working against your success. You can shore up those weaknesses so they don't stop your success.
Opportunities are those external conditions that can have a positive effect on your goals. These opportunities can point you in the right direction.
Threats are those external conditions that can have a negative effect on your goals. These threats will affect you less if you can identify and minimize them.
How long will it take? You can do a simple SWOT analysis easily in sixty minutes.
There are many different ways to conduct a SWOT analysis; a large corporation will do this very differently than a small non-profit. We've given you some valuable how-to information below in the Now It's Your Turn section so you can choose your method.
A rigid technique is less important than a well-imagined result. The important outcome of a SWOT is your understanding of the particular strengths you can count on, the pitfalls you might be facing, and the outside forces that might seriously change the landscape going forward.
What Does a SWOT Analysis Look Like?
We thought it would be helpful to show you a sample SWOT analysis for a business you can easily visualize: a small independent bookstore in a university town. The store owner brought the team together to think about how the bookstore could survive during the continuing financial downturn. After an hour of brainstorming, this is the SWOT analysis they developed.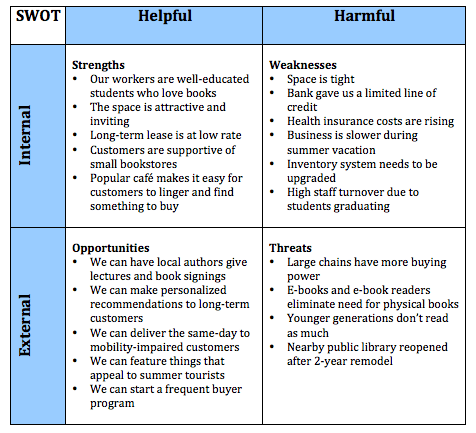 Who Benefits from a SWOT Analysis?
Everyone who participated got something valuable from the exercise. The owner got enough actionable information to guide his planning efforts over the next 2 years. Once he developed the strategic plan, he posted it on the back office wall so that everyone could see it. The team members understood for the first time the challenges the bookstore owner was facing. They felt more engaged in the store's success, and started suggesting additional opportunities the owner might try to build his business.
"Planning is bringing the future into the present so that you can do something about it now." — Alan Lakein
Now It's Your Turn
1. Take a look at these websites to learn about SWOT analysis. We've provided general information as well as some examples of how it's used in academia.
SWOT Analysis Resource Page from Idaho State University (http://www.isu.edu/acadaff/swot/index.shtml)
Strategic Planning Example from SUNY Plattsburgh (http://www.plattsburgh.edu/intranet/planning/strategic/reports.php)
2. Try conducting a SWOT analysis. Don't limit it to the workplace; you can just as easily provide valuable planning support to the board of your non-profit or to your child's school. In fact, you can use it to plan your own career development!