The Story of the Digital Book [Video]
>Millions of books from the UC Libraries have been digitized, but how?  Go behind the scenes to learn about the UC Libraries' digitization process and see several ways you can use these newly digital books.  "The Story of the Digital Book" explains how our books make their way from the shelf to the screen, the possibilities they bring to users, and how they're preserved for the long term.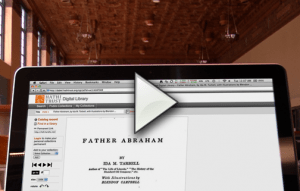 Produced by Jason Colman and
Amy Rogers
for the CDL Mass Digitization group.  Amy interned at CDL this summer as part of her Master's program at San Jose State University, and we are very grateful for her help!