Is Your Career Fit or Fat?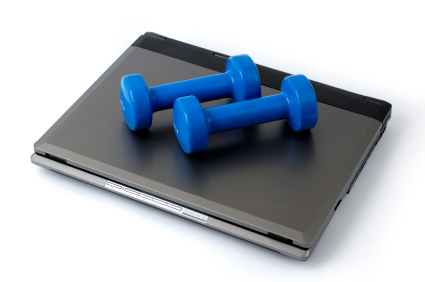 You exercise to build stamina and muscle. You meditate to gain greater serenity. You take your car to the mechanic to keep it running. In different ways, these are all about maintaining fitness. So what are you doing for your career? How do you improve your professional fitness?
When we learned last summer about the mandatory twelve-month furlough and salary reduction at the University of California, Leslie and I went through the five stages of grief — both for our bank accounts and for the forward momentum of our careers. But we realized that if our behavior continued, we'd end up at the end of the year weaker than when we started, with nothing to show for our angst. We asked ourselves these questions:
How will you reflect on this time? Will you come out stronger or diminished?
What would you like to be able to say you've accomplished at this time next year?
How will you become professionally fit so that you have more options with your career?
To get inspired, we considered these Big 5 Mid-Year Game-Changing Questions (http://www.escapefromcubiclenation.com/2009/07/13/the-big-5-mid-year-game-changing-questions) posed by the author Pamela Slim:
1. What are you going to focus on? You cannot focus on everything and make progress.
2. What are you going to improve? You cannot grow at a sustained level without making some major system improvements. Sooner or later, you will start to lose ground in the areas that have been natural strengths.
3. What are you going to grow? You have tons of knowledge/material which just needs to be refined in order to deliver powerful benefits to the world.
4. What are you going to leave behind? If you are taking on new challenges, you will have to give some things up. And those should be the ineffective/self-sabotaging parts of your life or business that hold you back from growth.
5. What are you going to learn? We stay fresh and creative by learning new things. What topic or field lights you up that you haven't devoted time to learn about?
Our Professional Fitness Plan
Leslie and I teamed up and made a commitment to keep moving forward.  Instead of just talking a good game, we forced ourselves to put our goals IN WRITING and commit to target dates. Here's what we did:
Used a shared Google Doc so we could both add to our goals easily from anywhere (at work, at a cafe, or at 3:00 A.M. when you can't sleep);
Created a table, with a row for each month;
Posted one to three professional development goals each month for ourselves;
Set a shared goal each month that represents things we wanted to work on together, like our blog, Your Life@Work.
One of the first things we jumped on was the chance to invite one or two co-workers to lunch — especially someone in another group or building. It's an opportunity to learn what they are working on, hear their professional development challenges, and applaud their successes.  It's especially useful for Leslie, who is newer to CDL, to meet everyone and get to know them on a deeper level.
Here's a sample of our goals from September to November 2009:
| | | | |
| --- | --- | --- | --- |
| Month | L & L Team Professional Goal | Leslie's Professional Goal | Lena's Professional Goal |
| September 2009 | Host a lunchtime brown bag with CDL staff on furlough planning  – how to make the furlough time meaningful for you | Give a presentation to CDL Director's Cabinet on Key Performance Indicators.Develop Key Performance Indicators for our Discovery & Delivery Team. | Give a presentation to CDL Director's Cabinet on Marketing.Take a one-day web video marketing workshop. |
| October 2009 | Invite two people from another group at CDL to lunch with us | Take an online tutorial on PowerPoint. Try out a more sophisticated presentation and ask Lena to critique it.Write a description of my "brand" and check with members of my team to see if they see me the way I see myself. | Take a class on grant-writing at the Foundation Center.Work on branding and renaming for our group. |
| November 2009 | Plan our blogging strategy for Your Life@Work | Join the planning team for the UC Project Managers Interest Group (PMIG) to get more engaged with people from other groups.Look into Project Management certification through the Project Management Institute. | Plan to begin "One year to an organized work life" (12 month program) starting in January.Read and compile ideas from "What Would Google Do?"  by Jeff Jarvis. |
The FUN part: we treat ourselves to lunch each month and talk about our progress. In reality, our lunch meeting forces us to look at our goals and take action at least once a month. We discuss whether we're on track or if we encountered any roadblocks. Sometimes, we'll re-commit to a missed goal, or change the goal entirely. Every so often, we admit that we'll never do a particular goal, so we drop it. Whatever happens, it's a chance to offer each other advice and encouragement.
"If you don't know where you are going, any road will get you there." — Lewis Carroll 

 Now It's Your Turn
Make a 12-month professional fitness plan. You don't have to start in January — any time is a good time to get working on your career.
Set one or more goals each month.
Find a commitment partner to help you stay on track. (Read our previous post 5 Tips for Successful Collaboration.)
Set a meeting once a month with your partner to check on each others' progress.
Share Your Experience
Have you found ways to stay professionally fit in spite of diminished professional development resources this past year? What have you done that's helped your professional development? Tell us about it in Comments below or e-mail us at yourlifeatwork@gmail.com. We'd love to hear from you.