Internships at CDL
Last Wednesday, Rachael Hu and I went to the Spring Career Fair at UC Berkeley's School of Information. The Fair is held at Berkeley's South Hall, an historic building on the campus. This year's Fair had 13 "vendors" including us. The others were AKQA, AT&T Interactive, Cengage Learning, Dow Chemical, Genentech, Innovative Interfaces, Lawrence Livermore National Laboratory, Oracle, Outhink Media, Qualcomm, SAP Labs LLC, and Yahoo!.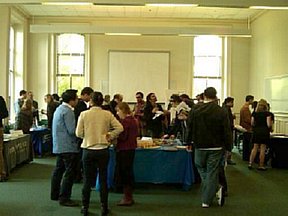 The students who were most interested in talking to CDL were the "first years," that is, those who will be between the first and second years of the 2-year program this summer and looking for an internship for those months. We spoke with a number of top-notch candidates and hope that some of these very capable individuals will apply for the internship opportunities we presented.
I am CDL's Internship Coordinator, and in that role I reach out to the iSchool, San Jose State University School of Library and Information Science and UCLA's Department of Information Studies, as well as serve as a point of contact for any graduate student in schools of library, information science, information or a related field of study. At the present time, CDL has an intern from the University of Illinois Urbana-Champaign.
Unlike some internship venues, we don't run a routine internship program. Rather we look for opportunities to involve students in current investigatory work and related projects in all of CDL's program and service areas. This means that we never have the same internship twice in a row. This works well for the students of any given program, although it makes my job a little more difficult, as I am in the position of encouraging managers to envision new internships on an ongoing basis.
Here are some of the internship projects we've sponsored in the last couple of years:
Peer-review analysis and tagging project (Publishing)
iPres Annual Conference planning assistance (UC3)
Determination of how CDL is referenced in social bookmarking (Executive)
Content tagging, and evaluating an automatic tagging tool (Publishing)
Getting Calisphere into Wikipedia (Digital Special Collections)
Our internship program has proved to be truly beneficial to us in both the short and long runs, because we've not only been able to have the assistance and perspectve of new and talented people brought to these kinds of issues, but we have also met some of our future employees in this way. We have two current staff members who are former interns, Leslie Wolf, and me!