Rachael Hu Staff Profile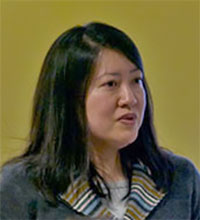 Program / Service
User Experience Design Service
Job Title
User Experience Design Manager
Responsibilities
Rachael manages and facilitates the discovery and design process for online services and tools produced by CDL across many of the programs and services. She leads the requirements gathering and the design and specification of the user experience for these services. Rachael collaborates with analysts, designers, web producers, developers, program managers, and constituents to explore business, technical, and user needs and ensures the quality and effectiveness of the service or tool. She also manages a team of UX designers and content specialist.
Education
B. A. in English from University of Michigan
M. S. in Information from University of Michigan
Background
She has a Master's of Science in Information from the University of Michigan where she pursued a tailored degree specializing in Human Computer Interaction and Archives and Records Management. She has worked in the Internet industry since 1999. Before coming to CDL, she worked at JSTOR where she was the User Services' lead on the project to design and build the delivery system for an electronic archiving service, called Portico. She also worked on components for the JSTOR interface. Since coming to CDL in late 2007, she has been working on the Online Archive of California re-design with the Digital Special Collection's group and the re-design and re-imagining of the CDL's organizational web presence.
Professional Interests
User-centered strategic planning and product development
Service performance indicators
Contextual design
Observational research with end-users
Ethnographic methodologies
Digital access and archives