Introducing the UC Libraries HathiTrust Help Center
CDL's Digitization team is pleased to announce the launch of the UC Libraries HathiTrust Help Center, designed for UC libraries staff who participate in, contribute to, and/or use the HathiTrust Digital Library.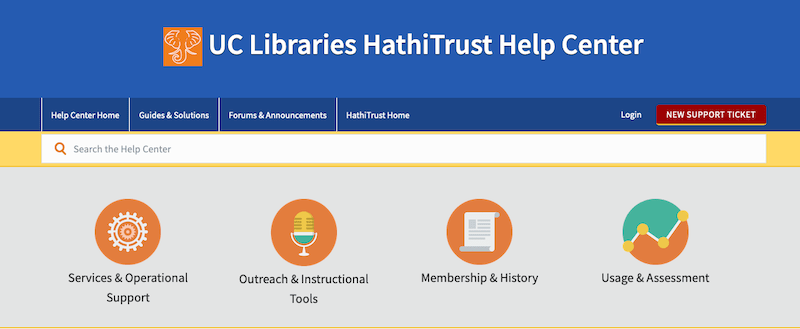 The new Help Center will allow users to:
Learn about HathiTrust and UC's participation and contributions to HathiTrust
Keep up with new developments and events at HathiTrust
Find documentation for current UC HathiTrust projects
Send a UC-HathiTrust-related request, question, or suggestion to CDL's Digitization team via our new ticketing system
Learn about ways to get involved with HathiTrust
Connect with other UC staff working on and/or using HathiTrust
The UC HathiTrust Help Center is launching with the following articles:
Two quick "How-to" pieces, How to Copy and Paste Text from a HathiTrust Volume and How to find a HathiTrust Volume in Google Books, are also available. 
As we continue to build out the Help Center, we would appreciate your feedback and ideas. What information would you like to find here? What would help you make better use of HathiTrust and/or help you support students and researchers in using HathiTrust?  Please take a look around, and send us a ticket with your comments, feedback, or suggestions.
New Ticketing System
The UC Libraries HathiTrust Help Center includes a new ticketing system that makes it easy for you to contact CDL staff with questions and for CDL staff to track requests and respond to them in a timely way. 
When to file a UC HathiTrust support ticket
Contact UC HathiTrust help to ask a question, report an issue, or make a suggestion about issues related to:
Policy or management concerning UC's participation in HathiTrust
UC's materials in HathiTrust, including quality, digitization, or technical issues
Submitting UC digitized content or related metadata to HathiTrust
UC HathiTrust projects, such as opening UC content for access or digital collection development
UC HathiTrust services such as HathiTrust usage data analysis, material discovery, and outreach
Feedback or ideas about the UC HathiTrust Help Center
When to contact HathiTrust Support directly
Contact HathiTrust Feedback if you: 
Have discovered a HathiTrust service outage or bug
Are not affiliated with the University of California, or if the material in question did not originate from the University of California
Want to report a correction request for a scanned volume or for a metadata error