Kathryn Stine moves to OCLC Research
With very mixed emotions, the Publishing, Archives, and Digitization team announces that Kathryn Stine will be leaving the CDL to take an exciting position as Senior Program & Engagement Officer, Data Science & Next-generation Metadata at OCLC Research.  Her last available work day will be November 10th.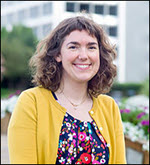 Over her nearly 10 years here, Kathryn has actually been a member of several CDL groups: D2D (twice!), Collections, and finally PAD.  In each of her roles, a major focus has been supporting UC's engagement with HathiTrust, including managing the development and launch of Zephir, the HathiTrust Metadata Management System still provided by D2D to this day.  Kathryn's skills, knowledge, attention to detail, and passion for her work were all drawn upon in what might be considered her crowning achievement, coordinating the UC campuses participation in the HathiTrust Emergency Temporary Access Service (ETAS) that was launched in response to the COVID-19 pandemic. Soon after we were all sheltered in place and libraries were physically closed, Kathryn stepped in to help each UC campus meet HathiTrust's requirements for use of the ETAS service, ensuring that UC's students, faculty and staff had access to the millions of scanned items stewarded by HathiTrust. Kathryn continued to manage this critical and complex project until the last campus library re-opened its doors and phased out from ETAS in mid-September.  In addition to efforts related to HathiTrust, Kathryn has contributed to several systemwide project teams and was a core member of the CDL strategic visioning team.
The PAD team has had the pleasure of working directly with Kathryn during these last two years in her capacity as the Senior Product Manager for Digitization and Digital Content.  During that time she has impressed and inspired us with her hard work, commitment, and vision.  She is generous with her expertise and is always ready to support her colleagues at PAD, CDL, UC, and beyond.  Please join us in thanking Kathryn for her many contributions to the CDL and wishing her great success in her new position.