SCP Update – April 2021
For the detailed list of net increase or decrease of titles from CDL licensed and selected open access collections, see the distribution statistics report for March 2021.
SCP Overview 
Monthly Updates 
The following chart and table show the overall SCP cataloging activities and workload in March 2021. There is one new tier 2 collection added in March:  Gale Women's Studies Archive, Voice and Vision online monographs. See CDLINFO article for more details. Also major distributions of serials and monographs are highlighted below. There is a net decrease of Naxos audio that is a result of the cleanup based on Alma duplicate/multi-matches report.
In order for SCP staff to have enough time to prepare SCP and MARCIVE records for SILS Cutover migration, the last weekly file distributions to each of ten campuses were on Monday, March 29, 2021. This change marks the end of 21+ years of SCP's weekly file distributions; see History of SCP Weekly File Distributions (1999-2021). CDL Helpline/SCP has created a Google sheet to track CDL Helpline requests that have impact on access and result in record deletion, non-PIDs/BIBPURL URL changes, serials coverage update, etc. Serials Phase II for Chinese titles switched from print to online is also posted on the same Google sheet under the tab "Chinese serials phase II". See CDLINFO article for details.
SCP cataloging operations are significantly reduced and most eBooks cataloging are suspended. As a result, there will be a delay in providing catalog records for many eBook collections for approximately two quarterly cycles, March-July 2021. During this interim period, all access will be available on content platforms. Post-migration, all content will be made available on Alma/Primo VE via SFX/360 and partial SCP data migration. Although it's very challenging, SCP staff plans to work on cataloging of Elsevier journal titles and hopes to make at least one special file distribution as part of the CDL newly licensed resource launch process. SCP will continue to accept cataloging requests for new collections, and will hold off reviewing and making recommendation to JSC and UC CKGs until post-migration. SCP will also continue to accept individual OA Journal request, and may put on hold as well. We appreciate your understanding and support.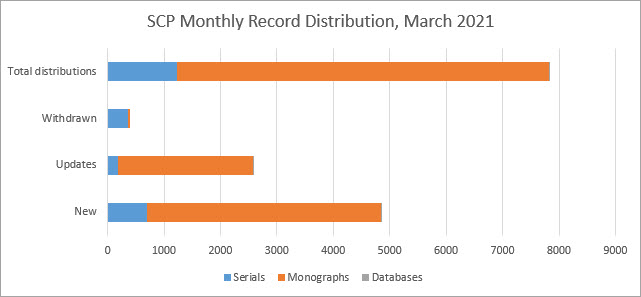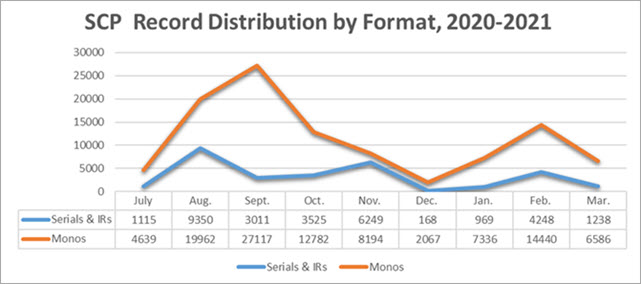 SCP Monthly Record Distribution, December 2020
|   | New | Updates | Withdrawn | Total distributions |
| --- | --- | --- | --- | --- |
| Serials | 689 | 191 | 355 | 1235 |
| Monographs | 4157 | 2393 | 36 | 6586 |
| Databases | 1 | 2 | 0 | 3 |
As of March 28, 2021, SCP manages a total of: 
Databases:  1,216 records; 1,220 package links
Monographs:  1,225,407 records; 1,252,404 package links
Serials:  89,438 records; 121,327 package links
---
Serials and Databases 
Major Net Increases 
EBSCO journals (+108 titles) 

Business source complete online journals (+103 titles) 

Contemporary women's issues online journals (+282 titles) 
Nexis Uni online journals (+13 titles) 
Open access resource  selected by the UC Libraries (+53 titles)

CLOCKSS online journals (+25 titles) 
Portico online journals (+10 titles)
Major Net Decreases 
Dacheng online journals (-27 titles)
Serials Cataloging Transition Phase II 
As Monday, April 5, 2021, SCP switched about 400+ Chinese titles and posted here under the tab "Chinese serials phase II". The remain 100+ titles will be posted as well upon manually switching is completed.  For the details about processing, please see CDLINFO article and Phase II FAQ page. 
---
Monographs 
Major Net Increases  
ACM Digital Library online conference proceedings (+44 titles)
CRC Press. CRCnetBASE online monographs (+264 titles)
Elsevier monographs (+275 titles in 21 subjects) 

Agricultural, biological, and food sciences online monographs (+37 titles)
Biomedical engineering online monographs (NEW subject +25 titles)
Engineering online monographs (+70 titles)
Materials science online monographs (+33 titles)

Gale monographs (+2246 titles)

Women's Studies Archive, Voice and Vision online monographs (NEW collection +2274 titles)

IEEE Xplore online conference proceedings (+202 titles) 
JSTOR monographs (+164 titles) 
SIAM online monographs (+2 titles) 
SPIE eBooks online monographs (+13 titles) 
SpringerLink monographs (+249 titles in 19 subjects)  

Biomedical and life sciences (+34 titles) 
Computer science (+88 titles) 

Wiley online monographs (+174 titles) 
Airiti monographs (+257 titles) 
Apabi online monographs. Ebooks (+44 titles)
Chinamaxx online monographs phase 1 (+101 titles)
Major Net Decreases  
Naxos audio (-652 titles) 

Naxos music library online audio (-649 titles) 
---
DDA Programs 
Programs with Updated Number  as of April13, 2021 
Airiti DDA (5,059 discovery records, 1066 purchased titles) 
JSTOR CDL DDA pilot (7,722 discovery records, 3,026 purchased titles) 
Programs With No Change 
CDL EBA databases. ProQuest (53 titles) 
CDL EBA databases. ProQuest history vault ( 44 titles) 
CNPeReading online monographs (729 purchased titles) 
CRC Press ENGnetBASE online monographs (406 purchased titles)  

2013 package (105 titles) 
2014 package (64 titles) 
2015 package (133 titles) 
2016 package (104 titles) 

EBSCO Japanese online monographs (466 purchased titles)
Maruzen eBook Library online monographs (333 purchased titles)  
YBP/Ebrary online monographs via ProQuest (665 purchased titles) 
---
CDL Helpline 
Please report to CDL Helpline on 
Cataloging Errors and Access Problems: Please include the OCLC Number (preferred), ISSN, or ISBN in the 'Record Locator' section of the form. 
---
Useful Links