SCP Update – September 2020
SCP Overview
Monthly Updates
We added a chart to illustrate the monthly total distributions including records being updated and withdrawn, representing overall cataloging activities and workload in a given month as well as the total accumulated records SCP manages. In August chart below, the large number of new and withdrawn in serials records largely reflects the serials phase II project of switching bibliographic records for print format to online format. The large number of withdrawn in monographic records reflects the removing of the JSTOR CDL DDA Pilot corpus II discovery records (in order to add new Project Muse records) and O'Reilly online videos records. Over 10,000 updated monographic records are mostly from OCLC daily updates received during June-July, with enriched metadata such as subject heading(s) and/or other access point(s) added, records upgraded to full level, etc.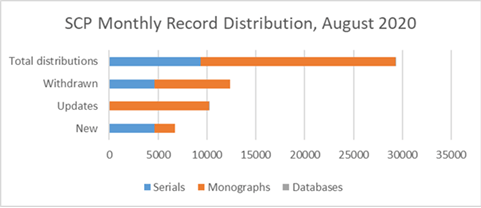 SCP Monthly Record Distribution, August 2020

|   | New | Updates | Withdrawn | Total Distributions |
| --- | --- | --- | --- | --- |
| Serials | 4624 | 63 | 4645 | 9332 |
| Monographs | 2114 | 10105 | 7743 | 19962 |
| Databases | 0 | 18 | 0 | 18 |
As of August 29th 2020, SCP manages a total of:
Databases: 1,228 records; 1,237 package links
Monographs: 1,193,551 records; 1,216,060 package links
Serials: 91,222 records; 119,661 package links
Cataloging Note
Routine cataloging by SCP may be delayed due to the migration to SILS, cataloging of new acquisitions, and reduced capacity due to the COVID-19 work from home recommendation. If a package is delayed over three months, or you have concerns regarding access to CDL content, please report to the CDL Helpline. Thank you for your patience and understanding during this time.
---
Serials and Databases
Major Net Decreases
OECD iLibrary online journals (-32 titles)
Open access resources (-165 titles), largely due to the cataloging related to the Serials Phase II Project

DOAJ online journals (-71 titles)
Independent voices online journals (-41 titles)
Serials Cataloging Transition Phase II
The last batch process of the remaining titles was distributed in file 200817. The remaining about 4200 print records (4.6% of all serials records) will go through the manual process to be switched to online records. For the details about processing, please see CDLINFO article and Phase II FAQ page.
---
Monographs
Major Record Distributions
ACM conference proceedings (+111 titles)
ASCE Library monographs (+13 titles)
Cambridge monographs (+90 titles)
CRCnetBASE online monographs (+39 titles)
Elsevier monographs (+164 titles in 20 subjects)
IEEE Xplore online conference proceedings (+85 titles)
MIT Press CogNet online monographs (17 titles)
Morgan & Claypool monographs (+53 titles)

Synthesis Collection 9 (+37 titles)
Synthesis Collection 10 (NEW package with 16 titles)

Sage Research Methods monographs (+49 titles)

Cases online monographs (+37 titles)

SpringerLink monographs (+635 titles in 20 subjects)

Biomedical and life sciences (+47 titles)
Business and management (+43 titles)
Computer science (+69 titles)
Engineering (+54 titles)
Medicine (+65 titles)
Social sciences (+50 titles)

Wiley online monographs (+135 titles)
Superstar
Chinamaxx monographs (+606 titles)
Major Net Decreases
O'Reilly online videos (-1909 titles)
---
DDA Programs
The JSTOR CDL DDA pilot corpus II for 8 campuses has ceased and 5810 discovery records have been removed in the file 200831.
Programs With Number Changed as of Today, September 8, 2020
Airiti DDA(3,511 discovery records, 909 purchased titles)
JSTOR CDL DDA pilot (5,015 discovery records, 2,522 purchased titles)
Maruzen eBook Library online monographs (333 purchased titles)
DDA Programs With No Change
CNPeReading online monographs (729 purchased titles)
CRC Press ENGnetBASE online monographs (406 purchased titles)

2013 package (105 titles)
2014 package (64 titles)
2015 package (133 titles)
2016 package (104 titles)

EBSCO Japanese online monographs (466 purchased titles
YBP/Ebrary online monographs via ProQuest (665 purchased titles)
---
CDL Helpline
Please report to CDL Helpline on
Cataloging Delays (if more than three months): A title might have been missed on the vendor title list, UC-eLinks (SFX) might have not yet been activated, OCLC record might have not been available yet, to name a few things that cause cataloging delays. It usually takes about two-three months for OCLC records to become available or for items to become available for SFX activation when new titles are added to an existing collection.
Cataloging Errors: Please include the OCLC Number (preferred), ISSN, or ISBN in the 'Record Locator' section of the form.
---
Useful Links