O'Reilly for Higher Education now available for UC
O'Reilly for Higher Education (OHE) is now available for all UC campuses on O'Reilly's new platform: http://uclibs.org/PID/432785 .
OHE contains close to 48,000 titles of technical eBooks, videos, interactive tutorials, case studies, learning paths and audio books from O'Reilly & Associates, including selective titles from 200+ global publishers including McGraw-Hill, Pearson Technology Group (Addison-Wesley, Alpha, Financial Times Prentice Hall, Cisco Press, New Riders, Peachpit Press, Prentice Hall PTR, Que and Sams), HarperCollins, Pakt Publishers, MIT Sloan Management, ASTD, Apress, Amacom, and other learning providers. The subject coverage ranges from Business, Desktop & Web Applications, Data Science & Management, Digital Media, Engineering, Information Technology & Software Development & Architecture, Math & Science, and Personal & Professional Development going back to 2007.  This database also contains 30,000+ hours of video including presentations from O'Reilly for Higher Education video.  Additional information about how to customize results, develop personalized reading lists, engage in notetaking, and bookmarking is found on the Proquest LibGuide for OHE at https://proquest.libguides.com/oreilly/, which can be edited for specific campus needs.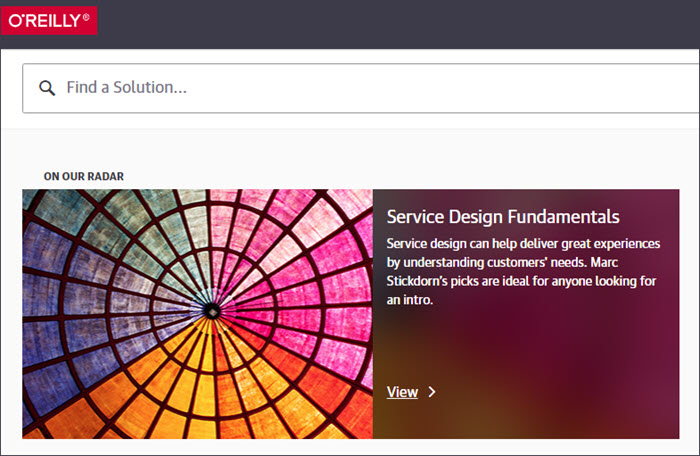 The new platform has unlimited simultaneous users.
The legacy Safari Classic platform is being discontinued effective immediately. SCP will remove  records for the old platform and replace them with records for the new platform.  
PIDs used for Safari Classic will not be redirected to the new platform.  Any links to Safari Classic content, titles and collection links, will need to be updated to use the corresponding PID for the new platform title.
Accessing OHE
The new OHE platform requires users to log in with a personalized account and does not use IP authentication. The campuses have configured authentication to use single-sign on credentials (i.e. Shibboleth or Federated logon), which will establish a personalized account on the new platform while preserving user anonymity.
Title level URLs end in /?ar, and will display a list of institutions using federated login if the user is not already logged in.  Authorized Users should select their institution from the list ("University of California, <campus>", "Lawrence Berkeley Lab") and follow the usual steps for logging on via their campus SSO.
Please note, UCANR users should select their affiliated UC campus to sign in, UCANR is not a separate entry in a "choose your institution" list.. 
OHE supports access by walk-in users when present onsite.  More information is available at the individual library.
Using OHE
When accessing a resource via account login in an environment where other resources and services are using IP authentication, users should be aware that if they are off-campus and not on VPN or proxy, other IP-dependent resources and functionality such as outbound links and SFX may not work as expected, unless the user is also using their campus proxy or VPN.
The user login is persistent for 30 days or until the user signs out. Users should sign out when accessing OHE with their account via a public machine.
Mobile
Currently, the OHE Mobile Application does not support Federated Authentication. Further promotion and support of this mobile app will be at the discretion of the individual campus once the updated application becomes available, inline with campus mobile access support policies. https://cdlib.org/services/collections/licensed/policy/mobile/.
Permitted Use
It is allowable to use OHE content as permitted by the principle of "fair use" under the U.S. Copyright Act, such as in course reserves, but not as a substantive replacement for a textbook or to serve as a primary course textbook . Please contact your librarian for more information on purchasing individual electronic ebooks for this use.
___________________________
A detailed FAQ for UC campus library employees is available at  https://ucofficeofthepresident.sharepoint.com/sites/cdl/cpa/_layouts/15/DocIdRedir.aspx?ID=SPCDL-695059133-414
Please direct other questions to the Resource Liaison for  OHE, Julia Gelfand (UCI) (jgelfand@uci.edu).