SCP Monthly Update — January 2019
Happy New Year!
SCP posted the distribution statistics report for the month of December 2018. This monthly report shows net increase or decrease of titles from CDL licensed and selected open access collections. For serials distributions, SCP continues to focus on cataloging open access titles, finished cataloging the collection of State Public Historical Library (Russia) online journals (adding last 38 titles) in collaboration with UCLA colleagues; see CDLINFO article for details. As a result, distributed Open Access journals (186 titles, including DOAJ 127 titles). Other distribution includes: Project MUSE online journals (13 titles).
For monographs, we added title level cataloging for the ASM handbooks: ASM International online monographs (34 titles). Other major record distributions were: ACM Digital Library online conference proceedings (34 titles), CRC Press. CRCnetBASE online monographs (184 titles), IEEE Xplore online conference proceedings (172 titles), MIT Press monographs (77 titles, including: CogNet online monographs 66 titles), SpringerLink monographs (351 titles, including: Biomedical and life sciences 45 titles, Computer science 113 titles, Earth and environmental science 236 titles, Literature, cultural and media studies 59 titles, and titles in 13 other subsets) and Wiley online monographs (72 titles).
DDA Programs: DDA programs with number changed as of today, Jan. 3, 2018: CNPeReading CDL DDA online monographs (4,203 discovery records + 131 purchased titles), JSTOR CDL DDA pilot (5,049 discovery records + 903 purchased titles). DDA Programs with no change: Airiti DDA (3,279 discovery records + 630 purchased titles), CRC Press ENGnetBASE online monographs 407 purchased titles [2013 package (105 titles), 2014 package (64 titles), 2015 package (134 titles), and 2016 package (104 titles)], EBSCO Japanese DDA 466 purchased titles, and YBP/Ebrary online monographs via ProQuest 665 purchased titles.
Note on status of SCP cataloging requests: SCP received an inquiry recently asking if a requester will be notified when a requested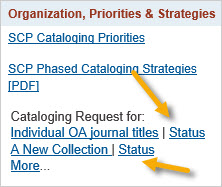 title has been cataloged. No, currently SCP does not have an automatic mechanism to notify the requester when a requested title or collection of titles has been cataloged. However, SCP provides an active 'Status' link to see the status of cataloging requests for both OA journal titles and new collections/databases on the SCP webpage next to the linked request forms (links to these forms are also listed below in the "Useful links" section). Anyone can click on 'Status' to see information such as SCP's recommendation, JSC decision, and cataloging status. For OA journals, a title highlighted in green indicates the title is cataloged. For new collections/databases, a title highlighted in green indicates the database level cataloging is done, yellow highlights indicate the title level cataloging is done.
Note on SCP web pages: As part of CDL website upgrade, SCP web pages are in a soft freeze period; all updates are sent to CDL web team, so there will be some delay on keeping current with the E-resource tracking page, record distribution statistics, etc.
Please note: Some of the Shared Cataloging Program records you receive may be the result of a batch cataloging process. They may not meet the standards for full-level records.
Please use the CDL Helpline to report:
SCP cataloging delay: If a particular title seems to have been delayed in cataloging for more than three months, please report this via the CDL Helpline. SCP catalogers are very good at keeping track of the titles/collections they catalog, with most packages updated on a quarterly basis. However, a title may have been missed on the vendor title list, UC-eLinks (SFX) have not yet been activated, the title might be missing the OCLC number, to name a few things that cause cataloging delays. It usually takes about two-three months for OCLC records to become available or for items to become available for SFX activation when new titles added to an existing collection. A delay of longer than three months is a good cue that the title may not have appeared on a cataloger's radar and so should be reported via the CDL Helpline for action by SCP.
SCP cataloging errors: If a librarian or staff member notice an error in the SCP catalog record, please report this via the CDL Helpline.  Be sure to include either the OCLC Number for the catalog record (preferred) or an item's ISSN or ISBN in the 'Record Locator' section of the form.
Useful links:
SCP Cataloging Priorities | SCP Standing Cataloging Priorities | SCP Updates & Statistics |
CDL E-Resources Tracking | Request Cataloging for A New Collection (Status) |
Request Cataloging for Individual OA Journal Titles (Status)