New, collaborative process for curating Calisphere exhibitions
We're pleased to announce a more collaborative process for the development of Calisphere Exhibitions, which we believe will bring more voices and stories to the site — as well as highlight more contributor content.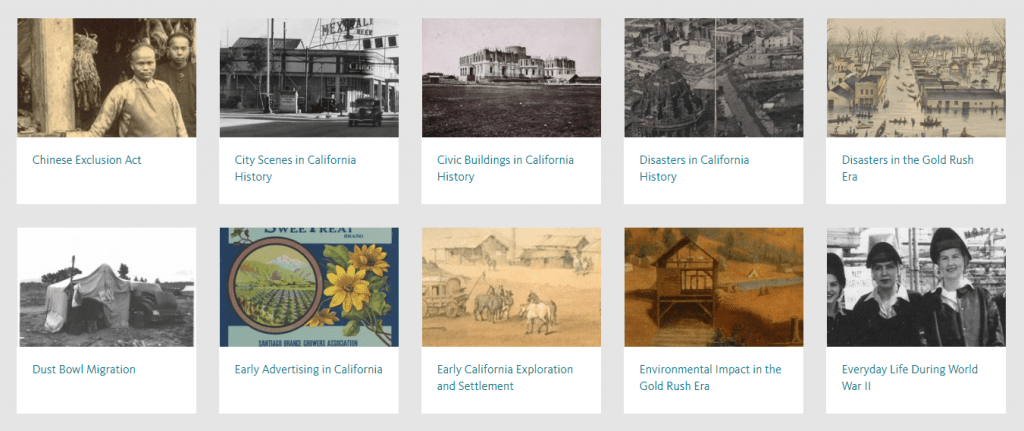 What's new?
To date, CDL has had curatorial oversight of Exhibitions (previously called "Themed Collections"), taking a top-down approach to identifying topics and assembling curators.
We are now opening up the process of proposing, writing, and even reviewing exhibitions. We invite Calisphere contributors to propose exhibitions (on any subject — including, but not limited to, California history) and to work with scholars, students, volunteers, and others in their communities to develop them. All exhibitions will undergo an editorial review process by ad hoc review committees to ensure that they are both accurate and engaging for Calisphere's diverse visitors.
Exhibitions Advisory Board
An Advisory Board will help guide the ongoing development of Calisphere Exhibitions, and will begin immediately to identify 1-2 new exhibitions for the steady ramp-up of the service. We're delighted to welcome Kelsi Evans (UC San Francisco), Eric Milenkiewicz (UC Riverside), and Monique Sugimoto (Palos Verdes Library District) to the Board.
Learn more
More information about the exhibition development process and guidelines are available in the Calisphere Contributor Guide. The exhibition After-Lives of the Vietnam War was the first to be created through this new workflow (curated by the UC Irvine Southeast Asian Archive in collaboration with a faculty member).
Thank you, task force!
Big thanks to Kelsi Evans (UCSF), Robin Katz (UC Riverside), and Christine Kim (formerly at UC Irvine) for serving on the task force that created this new process. The Calisphere Exhibitions program has come to life through their vision and hard work.