WorldCat Discovery beta: Call numbers added to emailed records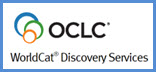 This month's WorldCat Discovery installation on January 21, 2016 included the following new features, enhancements and bug fixes.
The running list of release notes can be found at http://www.cdlib.org/services/d2d/melvyl/public/. (Note that many of these do not have an impact on Melvyl.)
New Features and Enhancements
More robust data included for emailed records. Changes are coming to the emailed record description in WorldCat Discovery. Additional fields will be displayed on the emailed record from each feature that has email capability including search results, the action panel and My List. The following fields will be included in the email record following the January release. The new information is in bold below.

Title (now hotlinked)
Author
Format (record type), Date, Peer Reviewed
Source (Journal name and information)
Publication information
ISBN
ISSN
OCLC Number
Database Name
Call Number and Shelving Location (for libraries with the Availability option only)
Here is an example of an emailed list of records.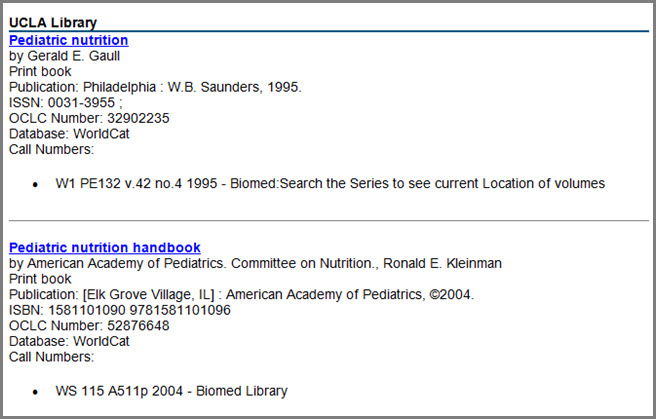 Year facet and limiter updated. OCLC has updated the Year facet and limiter so that it will now be up to and including the second year in the custom year range. This change will help in the translation of this custom range and will provide more accurate search results. The Custom Year Range now shows from XXXX through XXXX.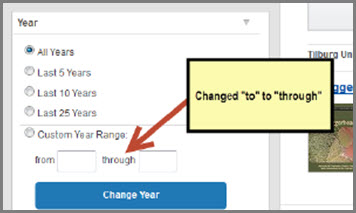 Holdings and Availability sections combined.  Based on feedback from members, OCLC has combined the display of availability information with library holdings. The section has been renamed Availability / Holdings.For WorldCat Discovery libraries that have enabled real-time availability the changes will be minimal. Once a record is selected from search results the information shown on the side panel following the bibliographic data will first display resources available immediately electronically. Next, availability based on your OCLC service configuration settings (i.e. Level 1, Level 2 and Level 3) will display, followed by holdings for Libraries Worldwide.
Bug Fixes
Deduped Author Name in search results and description. OCLC resolved a reported issue in which the Author Name displayed more than once in the search results and description after an author search was executed. This occurred occasionally and only for libraries using local bibliographic data in WorldCat Discovery.
Facet counts change to zero when limited by format. Libraries reported a problem with the facet counts once a search was limited to format, where the format count displayed zeros. This issue has been fixed with the January release.
Search with single year facet. In a search where only the beginning date was entered in the first date field and no date was entered in the second date field, an error would occur. OCLC changed this so that the second date will auto-fill with the same date entered in the first date field when the search is performed. If there is nothing entered in the first date field or invalid data is entered, an error will occur "Invalid year range…" so the searcher can review and adjust the date facet.
Searches with double quotes. Libraries reported a problem where searches were unsuccessful when double quotes were used in the query and the user was not authenticated. The problem occurred after the user chose to continue as guest. This case will now be handled appropriately in WorldCat Discovery so the search will be successful.
Permalinks that contain restricted databases. WorldCat Discovery libraries reported a problem where an unauthenticated user's permalinks did not resolve correctly. This problem occurred when a restricted database was included in the permalink and the searcher chose to continue as guest, rendering an error, "This item has been removed or does not exist". This has also been addressed in the January release so that the permalink will resolve to the correct detailed record.
---
WorldCat Discovery Services (WCD) Description
OCLC is working on major changes to WorldCat Local: a new discovery interface with major functional and design improvements. FirstSearch and WorldCat Local will be merged onto this new platform called WorldCat Discovery Services.
UC WCD Information on the CDL Website
Information on the WorldCat Discovery Services (Beta) for the UC campuses is available on the WorldCat Discovery Beta webpage. This webpage includes
Links to the UC campus (and union) WCD-Beta instances where you can test drive the functionality
OCLC's project timeline (e.g., when will UC migrate to the new platform?)