Release of the new Calisphere! More content in a great new interface
CDL is pleased to announce the official, public release of the new Calisphere website, currently in beta mode. Go there now!
The new Calisphere site provides access to even more unique digital collections from libraries, archives, and museums throughout the University of California system and across the state. And it provides an even better user experience for the many scholars, students, genealogists, and others who visit Calisphere for their research activities. Scroll down to learn more.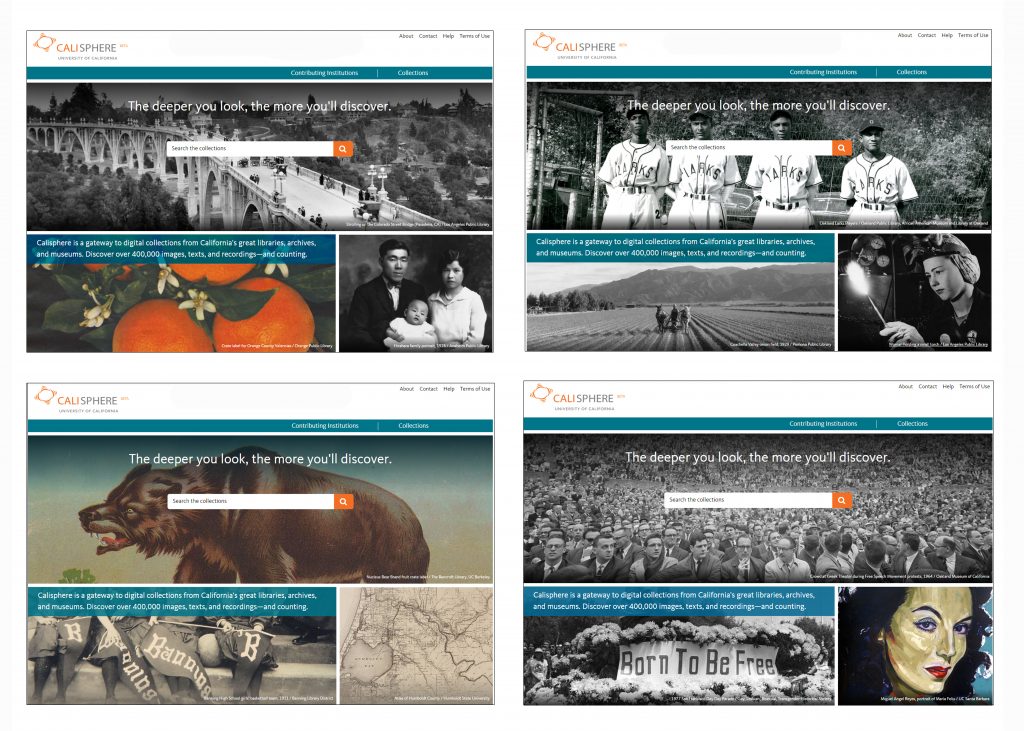 Above: four homepage designs randomly appear for different users, showing the breadth of the collections on Calisphere.
70% more digital content
The new Calisphere aggregates more than 400,000 digital photographs, maps, diaries, letters, drawings, newspapers, oral histories, sound recordings, moving images, and other formats. All told, it includes all of the existing content from the old Calisphere site, plus 70% more digital items.
About 50 new collections have been contributed by campus libraries at UC Irvine, UCLA, UC Merced, UC Riverside, UC San Diego, UC San Francisco, and UC Santa Barbara, alongside two additional collections from the Los Angeles and San Francisco Public Libraries, respectively. A new harvest ingest workflow and a shared digital asset management system underlying the site have made this significant influx of new content possible and will make it easier for libraries to continue to contribute collections in the future.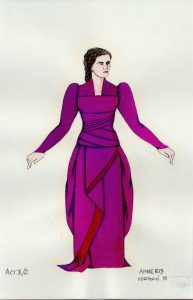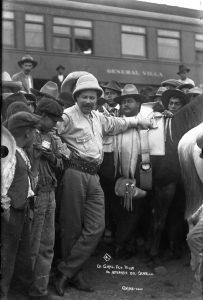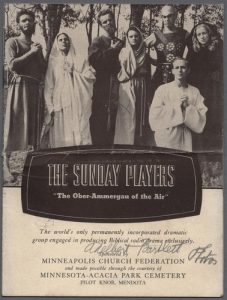 Left: a costume design collection from UC Merced–one of the few complete collections at an academic institution–is among the new content on Calisphere. Center: this photograph of Pancho Villa, part of UC Riverside's Sabino Osuna collection, is available online for the first time. Right: the new infrastructure allows libraries with their own digital platforms, such as UCLA, to seamlessly contribute content like this 1935 radio program advertisement.

A sleek new user interface
The new Calisphere boasts a clean modern look, user-centered design, and a slew of great new features, including:
Collection and institution browse and landing pages, for more context
Filters for type, decade, collection, and institution to help users drill down into search results
View and sort options for further customizing and making sense of search result sets
Intuitive item-level controls like "get citation" and "contact owner" buttons
A "sticky" search results carousel that keeps track of a user's search while on a selected item
Fully responsive design, meaning users can access the site on tablets and mobile devices
These and other enhancements help connect users as quickly as possible to the items they seek.
Spread the word!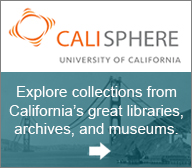 The new Calisphere site is in beta mode because we're still actively working on it—but we couldn't wait any longer to share it with collection holders and researchers. CDL will be adding more collections and functionality over the coming months (including migrating the Themed Collections, California Cultures, and the Japanese American Relocation Digital Archive to the new site), with the goal of replacing the old site in late 2016.
Meanwhile, we encourage you to spread the word about the new site to your students and faculty. We have created banner ads for Calisphere that can be easily cut-and-pasted into your own library or departmental website. Check them out now.