WAS Service Update: July -September 2013


Recent Enhancements, News, and Activities
1.   WAS 2.0 released. With the WAS 2.0 release, WAS curators now have new tools and reports that support: site creation and management; collection development; quality assurance; site analysis; and integration with local systems. Learn more: http://cdlib.org/2013/07/10/web-archiving-service-was-2-0-release-of-new-curator-tools/.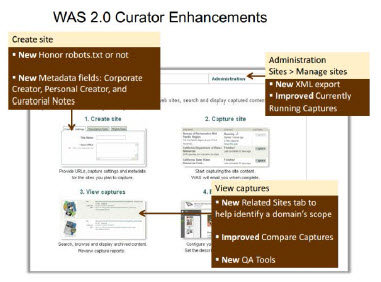 2.  Redesigned public interface. WAS public interface (http://was.cdlib.org) was released with a fresh new look. Read more: http://cdlib.org/2013/08/08/web-archiving-service-was-has-a-new-look/.
3.  WAS at Society of American Archivists (SAA) New Orleans, August 11 – 17. Rosalie Lack staffed a booth and hosted a WAS user's group meeting at SAA. Of particular interest, and a clear indication of the growing interest in web archiving, the SAA Web Archiving Roundtable held their first meeting (lean more: http://webarchivingrt.wordpress.com/) and also the only session completely dedicated to web archiving was standing room only! The session was "The Web of sites: Creating Effective Web Archiving Appraisal and Collection Development Policies"; WAS partner institutions (University of Michigan Bentley Historical Library and UC San Francisco) were well represented on the panel. The session was chaired by Nancy Deromedi from University of Michigan Bentley Historical Library; Olga Virakhovskaya also from the Bentley and Rachel Taketa from UC San Francisco presented. Jennifer Wright also provided insight into the practices at the Smithsonian Institutions Archives. Session overview: http://bit.ly/18TB8wg.
4.  OS Wayback Development. CDL joins six other IIPC (International Internet Preservation Consortium) members in overseeing the development of Open Source Wayback software. Erik Hetzner, WAS Technical Lead, attended the IIPC-supported meeting in Paris at the Bibliotheque Nationale de France to launch the new effort and plan the development calendar. The OS Wayback is the tool that is used by virtually all libraries/archives doing web archiving (along with WAS). It recreates archived websites, including content, images and navigation so that end users can view and interact with archived sites. More details about this IIPC project (http://netpreserve.org/about-us/news/iipc-re-launches-open-source-wayback).
New Partner: Smith College

New Public Content: Current Events in China: popular websites, blogs & twitters


Richard C. Rudolph East Asian Library, UCLA went live with the 'Current Events in China: popular websites, blogs & twitters' web archive. Learn more: http://bit.ly/1b1W60M.
Visit the web archive: http://webarchives.cdlib.org/a/currentchina.
WAS Activity, July –September 2013
126 archives actively collected
3348 total sites collected
8.1 TB of data collected
WAS Service Description
The Web Archiving Service (WAS) enables librarians, archivists and researchers to capture, curate and preserve websites and web‐published materials. WAS makes it easy to build web archives, with scheduling and other tools to help manage your archive. You control public access to your archives and can configure the appearance and navigation of each archive. We also provide collection development consultation and help desk support for web archiving questions.
WAS Service Manager
Rosalie Lack, rosalie.lack@ucop.edu or washelp@ucop.edu.
WAS Training Materials, Guides, FAQs and Webinars
WAS training materials and guides are available here: (http://webarchives.cdlib.org/p/curators).
Service Monitoring and Availability
Check CDL's system status page at http://www.cdlib.org/contact/system.html.