Melvyl Enhancements — August 2013
OCLC brought in several enhancements to WorldCat Local that impact Melvyl on August 22, 2013.   These contain enhancements for both July and August and include the following:
Display changes for handling records from databases displaying 'fake' OCLC number in record
In response to reports from library staff that the detailed record display showing "OCLC Number" for non-WorldCat items is confusing, OCLC has updated the display, changing the label to "Unique Identifier".
Current:


After install:

Bug Fix – Display Public Note (852$z) from LHRs in Availability Notes 
Notes added to the 852$z were not displaying on the detailed record as expected. This fix is to display those notes in the Notes column under Item Availability.  These include UC's Shared Print notes.
Current:

After install:

Enhanced Feature:  Improvement to display of chronology ranges for serials using LHR data
OCLC has improved the display of chronology range for serial titles for libraries using LHR data for serials.
Post-install: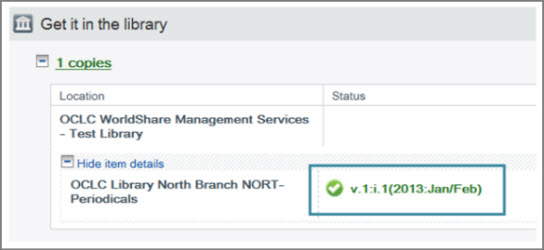 Enhanced Feature:  Update to genre in OpenURL links
OCLC is identifying genre=dissertation in OpenURL resolver links based on an updated rule set. This change will improve linking to online dissertations, both for Interlibrary Loan (Request) and for UC-eLinks linking to ProQuest dissertation databases.
New content added to WorldCat Local
This is a new section in OCLC's release notes where they highlight new content added to WorldCat Local since the last release. OCLC posts these announcements separately but includes the highlights here.
As announced by OCLC on August 13, 49 new databases have been added to the WorldCat Local Central Index.
Please find below in the linked document the database names, providers, and database ids for reference. Documentation of the complete list of databases and their IDs is available at http://www.oclc.org/us/en/support/documentation/worldcatlocal/Creatingdirectlinks.pdf.
Note: UC adds new databases to the Central Index in July and January that are subscribed by all 10 UC campuses.  CDL does not provide access to databases that are available only via Z39.50 because this method negatively impacts performance and the user experience.
For the latest databases added to Melvyl see:
http://cdlib.org/2013/07/01/melvyl-central-index-update-additional-changes-in-july-2013/
All recent enhancements
The full list of OCLC enhancements, including those that do not pertain to UC, can be found at http://www.cdlib.org/services/d2d/melvyl/public/22August2013_WCL_ReleaseNoteUpdate.doc