Good enough to eat: Halberstadt food photographs at UC Davis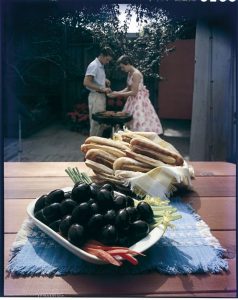 Our virtual world is rife with images of food: a friend's triumphant dinner party, a market with overflowing produce, the not-to-be-missed doughnut around the corner. From amateur snapshots of memorable meals, to softly lit portraits of perfect desserts—I'm looking at you, Pinterest—food photography is ubiquitous in the digital age.
The latest additions to the Online Archive of California (OAC) and Calisphere provide a new dimension to this trove of tasty images, transporting us to an earlier "golden era" of food photography: the mid-twentieth century. The Milton "Hal" Halberstadt (1919-2000) papers at UC Davis Library Department of Special Collections document the life and work of a skilled photographer most famous for his depictions of food. From the 1950s through the early 1970s, Halberstadt operated a studio in San Francisco and made his reputation working with big-name industry clients like Del Monte, Spice Islands, and Dole. In those years, the City by the Bay was a mecca for print advertising, and Halberstadt's 8×10 inch, full-color photographs appeared in leading magazines such as Life and Sunset.
Halberstadt's sons lovingly preserved the collection and donated it to UC Davis to provide an historic record of the photographer's legacy and to allow students and researchers to learn from his techniques. So far, the library has digitized 215 prints and negatives from the collection—mostly Halberstadt's advertising work, but also some examples of his fine art photography. As you can see, the food images in particular are colorful, bold, and just a lot of fun to look at.
View Hal's photos on Calisphere
The composition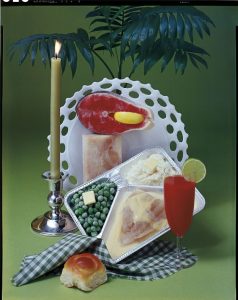 Halberstadt developed unique compositions that both highlighted the products and put them in conversation with other foods and objects—a "collage" style for which he became famous. Some of these compositions seem to suggest that canned and frozen products, depicted alongside fresh ingredients, are wholesome, essential components of the home cooked meal. Halberstadt also incorporated tableware and found objects into many of his images. His 7,500 square foot studio on Vallejo Street contained darkrooms, a kitchen, and a "prop loft" with thousands of items collected on his travels: "shelf after shelf of dishes, long-stem crystal glasses, battered decoy ducks, apple corers, a cigarette vending machine, receipts from the Gold Rush days."[1] He arranged these accouterments in creative ways to evoke a mood or occasion. For example, this photograph immediately brings to mind backyard living on a hot summer day—perfect for soda. The ambiance is very different in this portrait. Who knew fruit cocktail could be so romantic?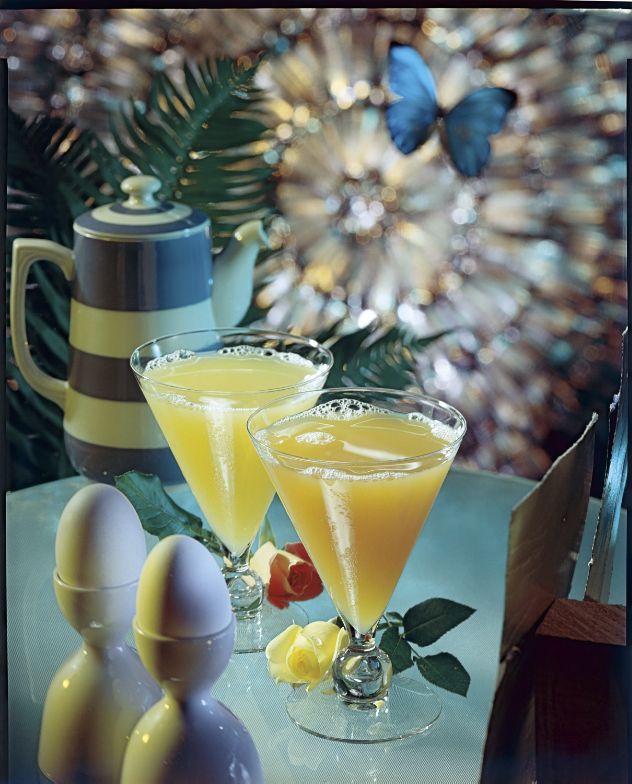 The technique
If the food looks good enough to eat, it is because of the photographer's exceptional command of technique. Once described as "an alchemist with his camera and in the darkroom," Halberstadt was exacting and meticulous at every stage of his process, from shooting to developing to proofing the images [2]. As one of his colleagues reflected, "He could make ice cream glisten at just the right moment. Or capture beer pouring into a glass with the perfect drop coursing down the side. Usually after forty or fifty attempts"[3]. His visual feats are all the more impressive considering the long exposure time required and the fact that Halberstadt had to train his non-dominant hand to use the large equipment. (He lost three fingers on his right hand during World War II—but earned a Purple Heart in the process.)
The selections
I spoke with UC Davis Head of Special Collections Daryl Morrison and Photo Archivist Patsy Inouye to learn more about how the images were selected for digitization. They speculate that the images they chose to digitize were Halberstadt's favorite outtakes, rather than the published images, which the photographer sold to his clients along with the rights. As Patsy was processing the collection, she found a piece of paper entitled "Hal's greatest hits" in the photographer's handwriting, with numbers along the edge. Later, while looking through another part of the collection, she discovered a set of slides with what appeared to be corresponding numbers. These are the images the library chose to make available on the OAC and Calisphere.
Read more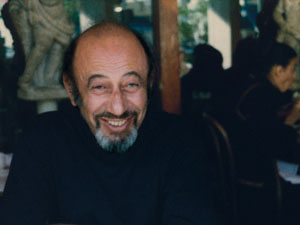 More information about Halberstadt and his artwork can be found at the references listed below. Additionally, the Community of Creatives website provides a nice biography of Halberstadt, as well as information about other San Francisco artists, 1945-1970. Of particular interest there are some great photos of Hal working in his studio, made available by the Halberstadt Family Trust.
To learn more about the Halberstadt Papers and Photographs, visit the UC Davis Special Collections website.
---
[1] The studio also became a social and intellectual hub for other artists such as Ansel Adams, advertising executives, and creative types who would drop by in the evening to drink wine and talk shop. When Halberstadt closed the studio in 1973, he threw a party that "lasted all night, and kept most of San Francisco's cab drivers working overtime." Susan Ehrens, "The Life and Work of M. Halberstadt," Black & White Magazine, Vol. 2, issue 5 (February 2000).
[2]
Ibid.
[3] Jack Allen, unpublished remarks from the Milton Halberstadt Papers and Photographs. See 
http://oac.cdlib.org/findaid/ark:/13030/kt3j49s14x/
.
Images, top-bottom: "Backyard barbeque with hotdogs and olives," "Frozon [sic] seafood dinner with frozen salmon and a glass of tomato juice," "Two glasses of pineapple juice with two eggs in egg cups and a blue butterfly in background," all by Milton Halberstadt; photograph of Mr. Halberstadt by Lee Boltin.