New! Contributor Showcases on Calisphere
Calisphere contributors have a new way to highlight their digital images and texts with the recently released "showcase" feature. These pages, unique to each of Calisphere's 120 contributing libraries, archives, and museums, provide increased opportunities for visitors to explore the more than 220,000 digital primary sources available in the repository.
Explore contributor showcases now!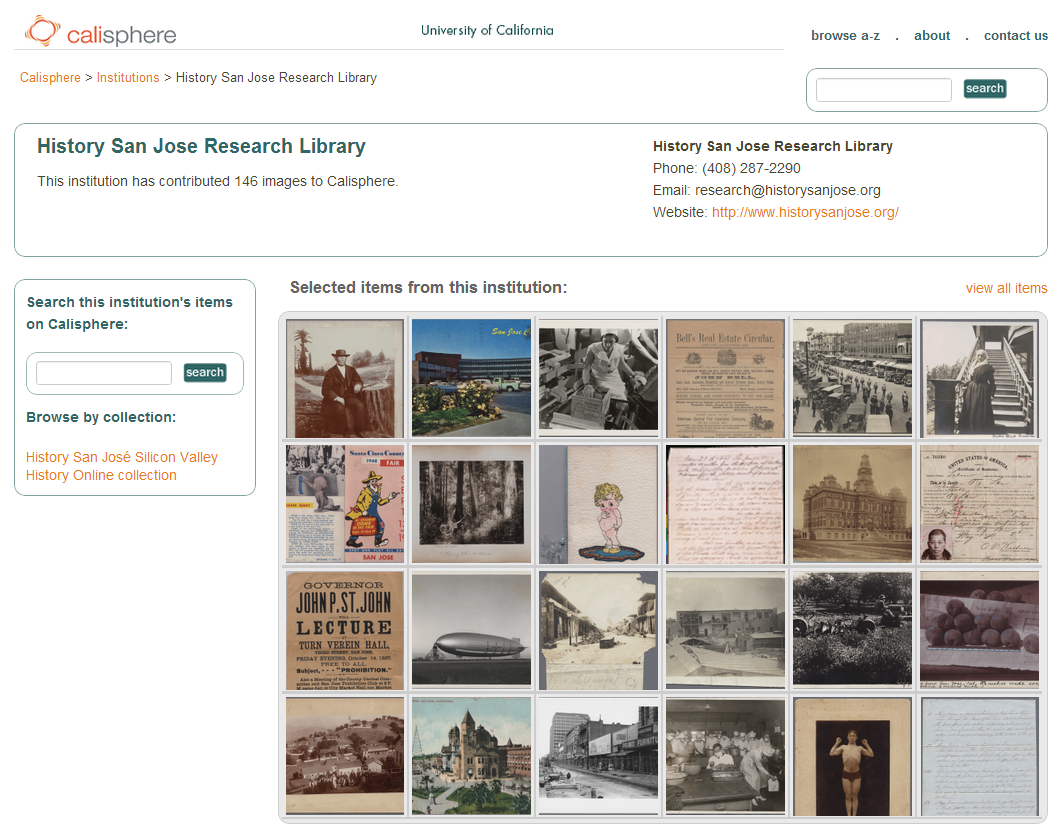 Each contributor showcase includes the following features:
Attractive visual display of select items contributed by the institution, suggesting the diversity of its holdings and encouraging exploration. These items are randomly selected and reset daily, enabling users to see different views of the content at different times.
Ability to perform a keyword search within the institution's contributed content.
Ability to browse the institution's content by collection.
Option to limit the content by format, for institutions that have contributed both images and texts.
Highly visible institution name and contact information to help users direct questions to the owning repository.
All contributor showcases can be accessed from Calisphere's redesigned "browse by institution" page.
Furthermore, each digital object in Calisphere now links back to the showcase for its respective contributor, making it easier for users to direct reference questions and discover more content from institutions.
This new feature has been developed in response to contributor feedback. Earlier this year, the CDL conducted an extensive assessment of Calisphere and the Online Archive of California (OAC), including in-depth discussions with several contributors about opportunities for enhancing CDL's digital object access services. During those conversations, contributors frequently cited the need to direct their users to a single point of access for their digitized content. (The OAC offers contributor landing pages, but they are optimized for descriptive records rather than digitized content.)
This project is the first in an exciting series of development initiatives to improve the discoverability and connectivity of digital objects on Calisphere. Stay tuned for more!