New Calisphere features enable better image discovery and browsing
Two recent enhancements to the Calisphere interface, plus the release of a slideshow widget for contributors, provide new ways to discover and view the more than 220,000 images in the collection.
"More like this"
Every image on Calisphere now includes links to a selection of images with a similar title or from the same collection. This enables users to discover related objects they might otherwise miss through searching alone. It also provides a way for visitors who arrive at Calisphere objects through Google and other external websites to discover more content.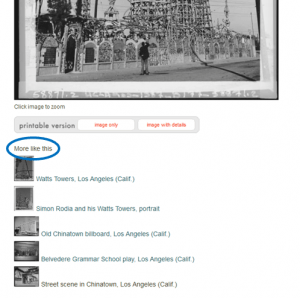 Slideshows
Now when users perform a search on Calisphere, they have the option to view the result set as a slideshow. This enables users to page through a selection of larger images without clicking on each thumbnail one-by-one. To see this feature, perform a keyword search on Calisphere and click "view as slideshow" in the top left corner of the results: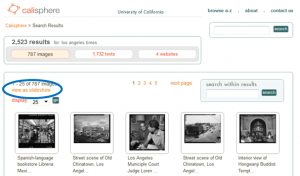 Slideshow Widget for Contributors
The code we used to create the slideshow has been made available to OAC/Calisphere contributors, so they can embed it as a "widget" into their own websites. Contributors can use the widget to publicize their collections locally, and even highlight different subsets of their content by constructing various searches. OAC/Calisphere contributors interested in using the widget can visit their customized dashboard for instructions.
Development of the slideshow widget was funded as part of the Local History Digital Resources Project (http://califa.org/lhdrp.php), which is supported by the U.S. Institute of Museum and Library Services under the provisions of the Library Services and Technology Act, administered in California by the State Librarian.