CDL HathiTrust Staff in the News: Heather Christenson and Paul Fogel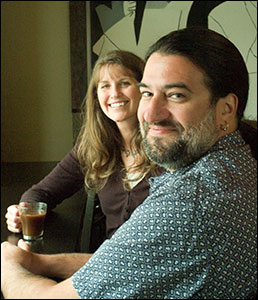 In an in-depth interview in Library Journal with CDL's Heather Christenson, Mass Digitization Project Manager and HathiTrust Project Manager, and Paul Fogel, technical lead for mass digitization and the co-technical lead for the HathiTrust at CDL, Char Booth, formerly of the UC Berkeley library and now Instruction Services Manager & E-Learning Librarian at the Claremont Colleges Library, digs into the workings of the HathiTrust.
Says Christenson in the article, "HathiTrust content is representative of research libraries and reflects decades, even centuries, of curation by librarians.  Although much of the content in HathiTrust is the product of scanning partnerships with Google, HathiTrust has an increasing amount of content not found in Google Books. We have included content from other major digitization projects such as Internet Archive and Microsoft-funded work with Internet Archive and other digitization agents. Some HathiTrust partners such as Michigan have contributed locally digitized collections as well."
And Fogel waxes enthusiastic about what to do with the content, "There are lots of ways to use HathiTrust. You can read books.  You can download public domain volumes, either a page at a time or the full book in some cases.  You can build your own collections of books, share them with others, view others' collections and search across the full text of any (public) collection. Libraries have tons of access points into Hathi: APIs, metadata feeds, data sets, widgets. These can be used to build functionality that is limited only by the developer's creativity.  Mash it up!"
Read the full article.