New on OAC and Calisphere: Kearny Street Workshop posters from UCSB
Students and researchers now have free access to 170 images of posters, artwork, and photographs documenting the work of the Kearny Street Workshop and the Asian/Pacific American community in 1970s and 1980s San Francisco. View them on Calisphere or the Online Archive of California.
The images were contributed by the California Ethnic and Multicultural Archives (http://www.library.ucsb.edu/speccoll/collections/cema/index.html) at the UC Santa Barbara Library Department of Special Collections.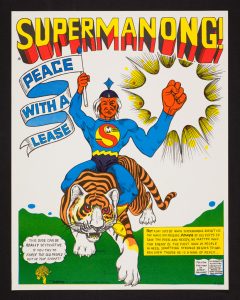 About the Kearny Street Workshop
The Kearny Street Workshop (KSW) is the oldest multidisciplinary Asian American arts organization in the country. Founded in 1972 in San Francisco's Chinatown/Manilatown neighborhood, KSW quickly grew into a full-fledged community arts center and cultural hub. It offered a range of art classes and cultural events and provided a platform for discussing neighborhood social issues. KSW is notable for blending art and activism, which is reflected in the archival collection.
What's Online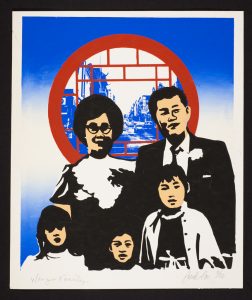 The bulk of the digitized collection comprises brightly colored posters created by artists associated with KSW from the mid-1970s through the late 1980s. Many of the posters promote KSW happenings, neighborhood festivals, and celebrations. Others draw attention to local politics and issues. For example, one poster proclaims, "Save International Hotel," the first location of KSW and home to many elderly community members. The online collection also includes several photographs of artists and exhibitions.
Both the style and the subject matter of the posters bring them in contrast with other images produced at the time about Asian American ethnic communities. This is what struck UCSB Art History Ph.D. candidate Julianne P. Gavino, who provided much of the metadata for the digital collection (as well as secured grant funding for digitization). "These posters depart significantly from the exoticized imagery of the neighborhoods common in the popular imagination, both then and now," Gavino says. "They assert an identity and a message of empowerment, generated from within, that was part of something much larger—the era's influential social movements."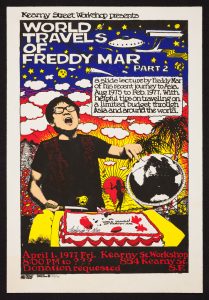 Beyond Kearny Street
The KSW collection complements several others held by the California Ethnic and Multicultural Archives (CEMA). CEMA Director Salvador Güereña points out that the history of Asian/Pacific Americans is intertwined with that of many other cultural groups in the Bay Area and California as a whole. "It is our job to intellectually tie these threads together, so researchers can gain a better understanding of how individuals and movements were connected," Güereña says.
The digitization of the Kearny Street Workshop posters is especially important because it fills a gap in what is currently online, on the OAC and otherwise. Says CEMA Assistant Callie Bowdish, "there is little Asian American art from this time period available online. That's partly what is so exciting and valuable about this collection."
This article is part of a series highlighting new digital objects on the OAC and Calisphere. Check back or subscribe to the Digital Special Collections RSS feed for future stories about new content.
Images, from top: "Supermanong! Peace with a Lease," artist unknown 1975; "Wong family," Jack Loo ca. 1972-1976; "World travels of Freddy Mar, part 2," Leland Wong 1977.