Behind the Finding Aid: UCLA Library's John Fante Papers
Researchers of literature and history can now delve into the life and work of John Fante (1909-1983), an Italian-American writer best known for his 1939 novel Ask the Dust. UCLA Library Special Collections has finished processing the author's papers, and the collection guide is now available on the Online Archive of California.
About the Fante Papers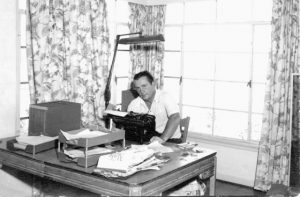 John Fante was a writer of short stories, novels, and screenplays. Many of his novels were semi-autobiographical and centered on themes such as family, religion, and the American immigrant experience.  The photo at right shows Fante at his home in Malibu c. 1950s.
The papers, acquired by the UCLA Library last year from the author's family, span 75 years. They include all the manuscripts known to exist for Fante's writings, as well as correspondence, printed materials, financial records, and ephemera. The collection also contains some interesting artifacts, including Fante's typewriter and pencil—and even a lock of his hair.
The Fante papers complement several other collections of California writers held by UCLA Library Special Collections, including Raymond Chandler, Horace McCoy, and Carey McWilliams.
Discoveries during Processing
The Fante papers are available for research because of an innovative program at the UCLA Library: the Center for Primary Research and Training (http://www.library.ucla.edu/specialcollections/researchlibrary/9613.cfm). The center trains graduate students from various disciplines to catalog unprocessed collections. Watch a video about the center.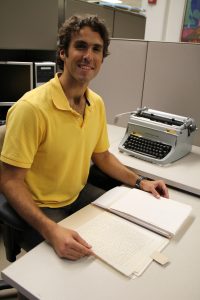 Daniel Gardner, a doctoral candidate in the UCLA Department of English, processed the Fante papers. It was his first time working with an archival collection, and a challenge was finding the right balance between getting to know the papers and focusing on organizing them.  "At first I treated every letter like it was sacred," he said. "But I had to get over that to move forward. I had to remember that I could come back later to dig deeper into the materials." The photo at left shows Gardner with some items from the collection, including Fante's typewriter.
One of the most surprising and remarkable items Gardner uncovered was a letter from John Steinbeck declining Fante's request for a fellowship recommendation. The letter was characteristically sharp-witted and also hinted at some literary competitiveness between the writers. It dodged the request by suggesting Fante instead seek letters of support from "dignified people . . . with robes of honor and degrees from sterling universities. Get cautious people who can clip a coupon."
When he started the project, Gardner had just discovered Fante and read his first published novel.  Now he plans to write his dissertation on Fante and his contributions to American literature. "It was a really exciting experience," Gardner said. "It's changed the way I'll do research in the future."
This article is part of a series highlighting new collection guides and digital objects on the OAC and Calisphere. Check back or subscribe to the Digital Special Collections RSS feed for future stories about new content.