CDL Shares HathiTrust SFX Target
CDL is sharing a way to link to HathiTrust digital resources using SFX with the broader HathiTrust partner community. CDL's Discovery & Delivery group introduced linking to HathiTrust books using UC-eLinks, UC's implementation of SFX, in April 2010. In technical terms, we created an SFX "target" to link to the HathiTrust Digital Library.
HathiTrust partner libraries using Ex Libris' SFX scholarly linking who implement the new target will be able to include a link to HathiTrust books in their SFX menu window.  Library users will be able to see immediately whether a HathiTrust book is available electronically and if so, link to the full text in the HathiTrust Digital Library.
This screenshot is an example of a HathiTrust book link in a UC-eLinks menu window.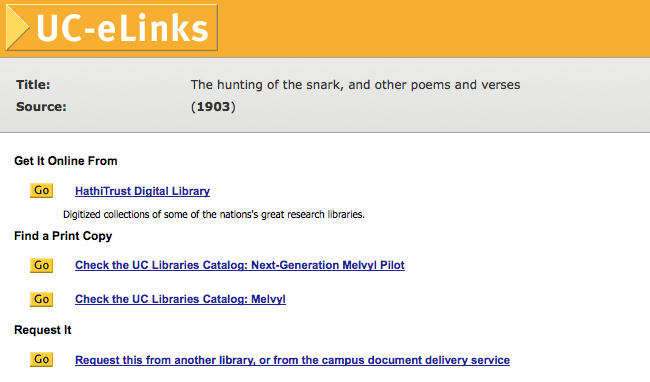 SFX is customizable so a HathiTrust partner library SFX menu window will look different than the UC-eLinks window above. What's the same is the link to the HathiTrust Digital Library. The link created by the SFX target goes to the book in the HathiTrust Digital Library.
Want to see how it works? Try this OpenURL from the FirstSearch WorldCat database to a HathiTrust book.
For more background, read HathiTrust Books Available via UC-eLinks.