New features for OAC Contributors: Dashboard and Search Box
Digital Special Collections is pleased to announce the release of two new features for OAC contributing institutions: the OAC contributor dashboard and an OAC search box for institution websites.
OAC Contributor Dashboard
The OAC contributor dashboard is a central, personalized place for account administration, designed to make it easier for contributing institutions to find what they need to submit and control their content.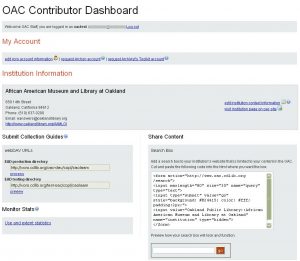 Currently the dashboard enables contributors to:
Edit their voroEAD account information
Request accounts for Archivists' Toolkit and Archon hosting service
Change their institution's contact information and move its marker on the Google map
Quickly reference their institution's content submission URLs
Access their institution's use and extent statistics
Take a look at the screen shot at right for a peek at what the dashboard looks like for OAC contributors (click to enlarge).  The dashboard is a work-in-progress; we plan to add additional tools to it, so stay tuned for more.
OAC Search Box
Contributors can now more easily direct patrons to their unique content with the OAC search box.  This feature enables users to perform a simple search of an institution's content—limited to just that institution's collection guides and digital objects—right on its website.  To embed the search box in their website, contributors simply copy the line of code located in their personalized dashboard and paste it into the desired place in their website's html.
Current contributors can explore the dashboard and OAC search box at http://www.cdlib.org/services/dsc/contribute/administration.html.  For more information about becoming an OAC contributor, see the contributor services page or email oacops@cdlib.org.