The Latest Newsletter from the UC Libraries HathiTrust Help Center is Now Posted
The UC Libraries HathiTrust Newsletter for Q3 2023 has just been posted!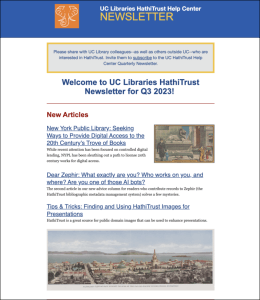 Learn about the New York Public Library's strategy to license twentieth-century, in-copyright, out-of-print books to provide digital access to their patrons.
Discover the answers to a few mysteries about the Zephir metadata management system.
Get tips on how to find and use HathiTrust public domain images in your next presentation. 
The newsletter also includes information important to UC's participation in and contributions to the HathiTrust Digital Library. It is published quarterly and intended for UC library staff and others working on or interested in the HathiTrust Digital Library. But anyone interested in The HathiTrust Digital Library is welcome to subscribe!