Wishing farewell to Catherine Nancarrow
It is with a sad heart that we say goodbye to Catherine Nancarrow. Catherine has decided to step down to spend more time with her family and to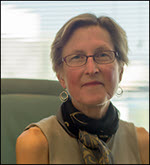 return to her work as a consultant in ethical and editorial best practices for publishing research articles and data. Her last day will be February 2, 2023. 
Catherine has served as Associate Director of the University of California Curation Center (UC3) for the past 3 1/2 years. She has lent her leadership and expertise to the group across our areas of digital preservation, data publishing, persistent identifiers, and research data management. 
Catherine joined at a time when the UC3 program was launching several new collaborations and projects with a new cohort of product managers. Her calm demeanor and leadership style has helped us navigate those turbulent times and bring stability to our projects. In addition, she has helped expand our portfolio on such projects as co-leading the Researcher Bill of Rights effort, working closely with The Carpentries on skills training development, collaborating with UCOP departments on data policy development, helping to redefine the Dryad curation checklist, and participating in the FORCE11/COPE Data Publication Ethics Working Group. 
Please join CDL in thanking Catherine for her many contributions to CDL, the UC system, our partners, and especially the UC3 team. We wish her well as she embarks on her next chapter!