Welcome Miranda Bennett, CDL's new Director of Shared Collections!
It is my great pleasure to announce that Miranda Bennett has been appointed as CDL's new Director of Shared Collections, with a start date of October 3rd 2022. In collaboration with the ten University of California campuses, this program licenses shared digital materials, negotiates open access publisher agreements, acquires and catalogs scholarly content, and supports shared print library collections. As Director of Shared Collections, Miranda will provide leadership for the open access transformation of scholarly communications, the continuing integration of shared print into the lifecycle of library collections, and the evolution of long-standing systemwide collections services, including all aspects of licensing and access to digital resources.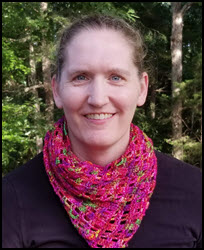 Since 2017, Miranda has served as Associate Dean for Collections at the University of South Carolina Libraries (UofSC), where she oversees departments responsible for collection development and assessment, acquisitions and electronic resources, and cataloging. Highlights of her time at UofSC included the implementation of a statewide shared library services platform (Alma), leadership of a nine-library collaborative negotiation with Elsevier, the Libraries' joining HathiTrust and participating in the Emergency Temporary Access Service, the establishment of a new Collection Assessment Librarian position, and the acquisition of several primary source databases in partnership with UofSC's Center for Civil Rights History and Research.
As she looks forward to joining CDL, Miranda says, "I have long admired CDL for its work at the forefront of shared collections, and I am so pleased to have this wonderful opportunity to collaborate with a group of smart, dedicated people to help ensure that the research and resources of the UC System have a positive impact on the world."
Educated at Rice University (BA), University of Virginia (MA and PhD), and Indiana University (MLS), Miranda began her career at the University of Houston (UH) Libraries, where she worked from 2005 to 2017. After three years as an instruction librarian, she moved into collections and management in 2008 and spent her final five years at UH in an innovative departmental structure, co-managing the Liaison Services Department, with responsibility for collections and research support.
"In Miranda, we have found a leader who is deeply rooted in library management and practice, while showing a remarkable capability to seize and integrate new ideas and opportunities," says Günter Waibel, Associate Vice Provost & Executive Director of CDL. "I am looking forward to working with Miranda to advance the full breadth of the shared collections portfolio, and continue to put the wind in the sails of our collections staff at CDL as they work collaboratively with colleagues at UC and beyond to provide access to crucial scholarly resources for our faculty and students in ways that advance openness in the scholarly communications system, and extend the reach of UC's research."
Miranda is active in several professional associations, including the American Library Association, HathiTrust, and the Partnership for Shared Book Collections, and has been a board member and officer for the Partnership Among South Carolina Academic Libraries (PASCAL). Her publications have focused on management issues such as onboarding, succession planning, and staff development, and she has participated in a number of national leadership development programs for librarians and higher education professionals, including the 2022 cohort of the Association of Research Libraries Leadership Fellows Program.
Miranda will work remotely from her home in the Midlands of South Carolina, where she lives with her husband and three sons.
About the California Digital Library
CDL was founded by the University of California in 1997 to radically reconceive the way scholarly information resources might be published, archived, and accessed in the context of rapidly emerging technologies. Today, CDL provides transformative digital library services, grounded in campus partnerships and extended through external collaborations, that amplify the impact of the libraries, scholarship, and resources of the University of California. Through CDL's commitment to sustainable open scholarship, an ever-wider range of freely available research informs ever-more potent responses to real-world challenges. Together with the UC campus Libraries and other partners, CDL amplifies the academy's capacity for innovation, knowledge creation and research breakthroughs and enables the University of California to produce a measurable impact valued by the state, the nation and the world.