Mat Willmott appointed first Assistant Director for Open Access Agreements
We are thrilled to announce that CDL's Mat Willmott has been appointed the first Assistant Director for Open Access Agreements, a position that is responsible for stewarding California Digital Library activities related to publisher agreements for open access, including analysis, data and financial modeling, negotiations, implementation, administration, and assessment.  In this role, Mat will expand his current responsibilities to include leadership of all stages of UC open access publisher negotiations, as a member of UC Libraries negotiation teams, through leadership of select CDL-based mission-critical publisher negotiations, and through engagement with a variety of stakeholders across the University, including faculty, senior administr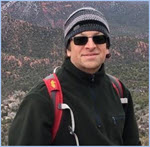 ators, and library decision-makers. 
Mat's education (including a master's degree in Mathematics, undergraduate degrees in Physics and Mathematics from MIT; and a master's in Library & Information Science), his skills, and his experience at CDL in open access processes and workflows, data analysis and  visualization, and in publisher negotiations, make him uniquely qualified for the new role.   Mat has been a linchpin supporting UC's open access strategy since his arrival at CDL in 2015 as Scholarly Publishing Data Analyst, and then as Open Access Collection Strategist.  He has made critical contributions through innovative data analysis and  financial modeling, and through his creative approach to problem-solving, and deep commitment to collaboration.
As Data Analyst on the Mellon funded Pay-It-Forward project, Mat made unique contributions in developing novel strategies for projecting the costs of open access under the APC business model, and in devising theoretical models for supporting open access by leveraging available author research funds in addition to redirected library subscription funds.  His efforts included unprecedented work in gathering,  normalizing, and analyzing raw publication and cost data.   Mat put much of the theory from that project into practice: he was central to negotiating agreements with publishers for a completely new open access business model, meeting the aims of both UC stakeholders and publishers.   Mat's gifted modeling and data analytics were a crucial foundation in UC reaching our first open access transformative agreement in 2019 with Cambridge University Press, and since then, in over a dozen more agreements with a diverse  group of publishers. 
Even before his arrival at CDL, Mat had considerable experience and demonstrated expertise in open access publishing data analysis, workflows, and assessment.  At MIT Libraries, he supported open access to MIT's research by developing a one-of-a-kind innovation  to enable the implementation of MIT's Faculty Open Access Policy, he invented and built a database application that identified publications by MIT faculty, provided workflows to assist subject librarians in reaching out to faculty to request the deposit of their manuscripts, and data to assess the results.  
Mat says that he is  "excited to serve as the Assistant Director of Open Access Agreements, and to help drive CDL's important ongoing work and national and global leadership in this area."  We are enormously grateful that Mat will be sharing his incomparable gifts even more fully in taking on this expanded new leadership role. 
Mat will transition to his new role as of July 25, 2022, and in the new role will manage the Transformative Agreements Collections Team in data analysis, negotiation, and implementation of open access publisher agreements, and be part of the leadership team in CDL's Shared Collections.   Mat will continue to work remotely from Salt Lake City, UT, where, when he's not chasing a toddler around the house, he enjoys playing saxophone, exploring the nearby mountains by hiking or running, and solving crossword puzzles.
We would like to celebrate this moment of well-deserved transition for Mat, and welcome him into his new role!