Lisa Mackinder appointed Assistant Director of Systemwide Licensing and Collection Services
We are delighte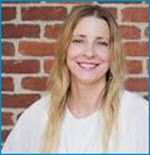 d to announce that following a national search Lisa Mackinder has been appointed as Assistant Director of Systemwide Licensing and Collection Services for the California Digital Library.  Lisa comes to this role with 14 years of directly related experience, and has been ably carrying out the responsibilities of this role in an interim capacity since June 2021. 
Lisa came to CDL in January, 2021 as Licensing Analyst. Her arrival at CDL was actually a return to UC, as she was previously Head of Electronic Resources and Serials Acquisitions and Electronic Resources Acquisitions Librarian at UC Irvine, so Lisa comes to her new role with strong knowledge of the UC context.   Before coming to CDL, Lisa was the Head of Acquisitions and Collections Services at Ohio University.   In that role, she had responsibilities highly relevant to her new position, as she was responsible for managing the lifecycle of electronic resources; license negotiation and management; performing and overseeing acquisitions functions including appropriations and expenditures; collections data management; ILS and knowledge base administration; and effectively working across stakeholder groups to enable shared stewardship of collections resources.   Lisa has reflected that it is not only this experience that prepares her for her new role, but also her enthusiasm for the work at CDL, and indeed both her experience and her enthusiasm have proved to be strong foundations for sustaining and advancing our work.   
In her new position, Lisa will have responsibility for conducting and overseeing license negotiations for scholarly content on behalf of the University of California Libraries and will manage a distributed licensing and collections staff, including staff based out of Oakland who are responsible for negotiation and ongoing management of shared digital resources,  and collections services staff at UC San Diego, who provide acquisitions and shared cataloging services.  Lisa will also assume an active role in facilitating collaborative decision making among UC Libraries collection managers and librarians responsible for shared content licensing, and contribute to advancing open access as well as subscription agreements.
Lisa reports to Director of Shared Collections Ellen Finnie and begins her permanent position on March 15, 2022.   Please join us in welcoming Lisa into her new role at CDL!