Good news from Shared Collections: Welcome Sherry Lochhaas!
We have good news from the Shared Collections program this morning. Sherry Lochhaas joins us today as our new Electronic Resources Services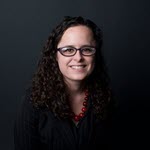 Manager. She is joining us from UC Berkeley, where she has held the Electronic Resources Librarian position, and before that was the Electronic Resources Specialist. Sherry brings with her a great deal of knowledge of managing electronic resources through their lifecycle, with both direct responsibility for ER-related tasks and leadership of a team of specialists in the ER Unit. She has experience managing all formats of electronic materials, as well as training, developing and refining workflows, and working closely with vendor and publisher partners to establish and maintain access and work through technical issues. Sherry also has a background in public libraries, as well as a history of working remotely to manage digital collections at The WiderNet Project, where she collaborated with international colleagues and partners to develop and maintain a 4TB digital library.
As our ER Services Manager, Sherry will take the lead on administering the lifecycle for the resources CDL manages on behalf of the UC campuses and labs. She will work with colleagues across the system as well as within CDL as resources are identified, trialed, acquired, activated, and maintained. Her responsibilities will include training staff on the License Content Team as new workflows and new technologies arise; overseeing activation, access maintenance, entitlements, and troubleshooting efforts; and engaging with publishers and vendors to resolve breach notifications, test and implement platform functionality, and organize product and platform information for assessment efforts. Sherry will take a lead role with the CDL ER Team, and will therefore be deeply involved in CDL's ongoing implementation of the Alma NZ, including migration data cleanup, refining workflows, and ensuring the processes and the associated divisions of labor among ER Team staff are operational. Additionally, Sherry will serve as the CDL representative on the SILS E-Resources Operations Subteam, and will manage the Resource Liaison program.
We are thrilled to have her join us. Please join me in congratulating her and welcoming her to CDL! Sherry can be reached at sherry.lochhaas@ucop.edu and will be working remotely for the time being.