UC Davis Contacts Alumni Authors in Successful Project to Open Theses and Dissertations for Worldwide Access
This article is based on the transcript from the HathiTrust Slack Pop-up held December 16, 2021 and the Dissertation Licensing in HathiTrust: Webinar & Virtual Chat held January 19, 2022. Both featured Sara Gunasekara from UC Davis, and Kristina Hall and Margaret Grumeretz from HathiTrust. 
From January to September 2021, Sara Gunasekara of the UC Davis Archives and Special Collections Department, headed by Kevin Miller, undertook a project to expand access to UC Davis theses and dissertations digitized by Google and deposited in HathiTrust. Per copyright law, access to these volumes was restricted, based on their date of "publication." Sara's strategy for overcoming this barrier was to contact these alumni authors, asking them to submit a Rights Holder Creative Commons Declaration Form to HathiTrust, in order to have a Creative Commons License applied to their works. As a result, 1,047 UC Davis theses and dissertations were opened for worldwide access, to date, in HathiTrust. 
In all, nearly 24,000 UC Davis theses and dissertations (published from 1923 – 2010, with the physical volumes stored at UC's Northern Regional Library Facility [NRLF]) were digitized by Google in 2017 as part of the Google Library Project. The resulting scans were uploaded to both HathiTrust and Google Books. UC has also partnered with Google to digitize dissertations and theses from UC Berkeley, UC Santa Cruz, and UCSF, all of which are also in HathiTrust, which means that UC Davis' model could be used by these campuses as well – given staff availability.
The UC Davis Archives and Special Collections team had long wanted to conduct an outreach effort to open theses and dissertations in HathiTrust, but did not have the bandwidth until the COVID-19 pandemic changed everything. In the past, the team reached out to an author only when their thesis or dissertation was requested through interlibrary loan. This process had introduced them to the challenges and rewards of tracking down and contacting alumni authors, so the team knew what a larger scale project would entail. Then working from home actually provided the opportunity required for such an initiative.      
The UC Davis Archives Special Collections team worked with Michael Ladisch, the library's Scholarly Communications Officer, to pinpoint the optimal publication years to target for their outreach efforts. The key questions were: under copyright law, which historical groupings might they be able to open en masse through a future initiative? And which years would be the hardest to open without direct author engagement? Their analysis led them to pinpoint 1978 as the best year for the pilot to start with. Over  the project's nine months, Sara was able to work through eight years of publications, from 1978 to 1985.
Sleuthing out Contact Information
Channeling her inner Nancy Drew, Sara used Google search, Spokeo, and UC Davis Alumni Directories to sleuth out contact information for the alumni authors. She also took advantage of HathiTrust's ETAS (Emergency Temporary Access Service), which allowed her online access to the previously restricted scanned theses and dissertations while the UC Davis physical libraries were closed. Details captured in the page images, particularly in the front matter, provided information she could use to refine search criteria for authors with common names.
Sara found contact information for almost 80% of the approximately 4,000 authors for theses and dissertations published between 1978 – 1985. Each author then received either an email or a letter in the mail with details about why and how to open up their thesis or dissertation. 
HathiTrust Hires Additional Help to Process UC Davis Alumni Requests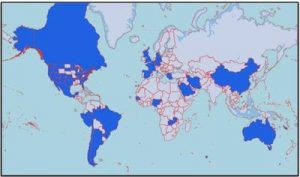 Meanwhile at HathiTrust, the Rights Holder Creative Commons Declaration Forms from UC Davis alumni began to arrive. At first there were just a few, but then dozens, and then hundreds – 1,047 in all! Kristina Hall, HathiTrust's Copyright Review Program Manager, was impressed by the extent and the results of UC Davis' outreach efforts–but there were more requests to process than she could handle herself. She hired a new licensing assistant, Margaret Grumeretz (a graduate student at University of Michigan's School of Information) to help process the forms and open the volumes. In addition to a thesis or dissertation, Kristina or Margaret would check to see if an alumni author who contacted them had additional publications in HathiTrust. If they did, they invited the author to also open these works with a Creative Common license. Some alumni authors had a lot of publications and opening them was a bonus.
Positive Response from Alumni Authors
In addition to the benefits of opening 1,047 unique UC Davis works for worldwide access, thus making more UC research freely available, UC Davis' outreach project prompted many of the contacted alumni to send positive responses in return. Sara writes, "It was so rewarding to work on this project during the pandemic and hear from alumni, some of whom hadn't been in touch with campus in decades". Margaret writes, "There were a few people I interacted with that seemed very proud to get a letter from their alma mater…" and  "I've really enjoyed getting excited emails back from authors once their work is opened, saying they were going to share it with family or colleagues. I love the idea that the UC Davis alumni will get to look at their thesis from the 70s or 80s for possibly the first time in years and email a PDF to their kids and coworkers!" 
Opening Works in HathiTrust via the Rights Holder Creative Commons Declaration From
Any rights holder whose work is in HathiTrust may choose to open it for worldwide access by completing and submitting a Rights Holder Creative Commons Declaration Form. The rights holder may be an individual (such as the author of a thesis or dissertation), or an institution such as a university, an academic department, a publisher, or a non-profit or an agency. All rights holders may contact HathiTrust to learn more about how to open their volumes for worldwide access using a Creative Commons License. UC affiliates may contact CDL for information about opening volumes in HathiTrust by submitting a ticket. 
For More Information