A warm welcome to Kristen Chua!
We are delighted to announce that Kristen Chua has joined the Information Services team as an Information Services Analyst beginning December 6, 2021. In her role, Kristen will provide essential support to both the users of CDL services and to the program teams responsible for the development and ongoing management of UC Libraries' digital library collections and services. Kristen comes to us from the UCLA Library, where she worked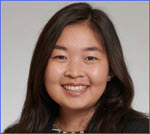 as a Collections Analysis and Services Specialist on the Licensing and Electronic Resource Acquisitions team. She is well versed in a range of e-resource access issue troubleshooting skills, including credential management, IPv4 and IPv6 address registration management, data analysis and visualization, and electronic resource usage reporting.
Kristen holds a B.S. in Applied Computational Mathematics and Statistics from the University of Notre Dame and is pursuing an M.S. Informatics degree at San Jose State University. When she's not working or focused on her graduate studies, Kristen enjoys swimming, traveling, and playing with her Pembroke Welsh corgis, Benji, Ella, and Moose!
Please join us in extending a warm welcome to Kristen!