SCP Update — November 2021
Introduction to new SCP Statistical Reports
Thank you to Gem Stone-Logan, CDL Senior Systems Analyst, who has been exploring and designing SCP statistical reports using Alma Analytics, working closely with Kate Garvey-Clasby (who prepared SCP statistics pre-Alma) and Shi Deng. We have two reports to share at this time. Please note that the electronic collections listed in the first report will likely change upon the SILS migration cleanup and reconciliation done by CDL Acquisitions.  SCP will post the reports online once the SILS migration cleanup and reconciliation process is completed. Until then, we will share the monthly report via email and/or upon request. 
The first report is the Total Portfolio Count of CDL-Managed Electronic Collections
This is the statistics based on CDL managed electronic collections (i.e. Aggregator package or Selective package in Alma's term). This report includes Electronic collection name, electronic collection ID, No. of Portfolio (in repository) (i.e., the number of titles in a collection), Portfolio linked to CZ (i.e. number of portfolios managed by Ex Libris Knowledge Base), Total SCP managed title hooks (i.e., number of portfolios linked to SCP cataloged bibliographic records collected by SCP title hook in 930 fields), SCP managed previous month (i.e. number of portfolios linked to SCP bib records added in previous month, in this case, October), and Material type.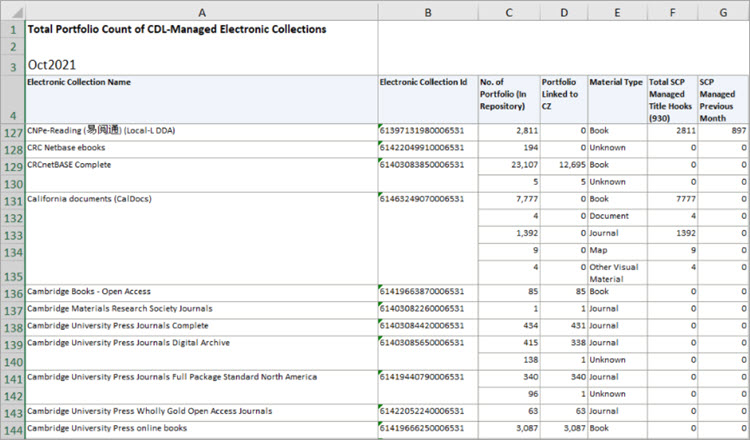 There are a number of differences between this new Alma Analytics report and the old report Kate used to prepare: 
Collection name/title meaning differently:
Old report was based on the SCP collection title hook, one title hook may cover more than one licensed package that was added over the years. Using JSTOR online journals as an example, you only  see "JSTOR online journals" in one row.
New report lists electronic collections by licenses and open access collections.  Using JSTOR online journals, all JSTOR online journals are broken by the licensed collection names; in case of JSTOR Arts & Sciences I-XV, you would see them listed respectively in 15 rows (not shown all in the screen shot below).

      2. Total number meaning differently: 
Old report: the total number listed in the "

Package total

" is titles/access links within the collection(s) of a title hook

SCP cataloged

New report: has two total numbers: one is the

"No. of portfolio (in repository)"

within a collection. It includes both titles linked to CZ and/or cataloged by SCP. These two numbers are not necessarily added up to the total. The other is the

Total SCP Managed Title Hook (930)

, this number showing the total number of titles in a collection that SCP catalogs, won't be the same as the number in the "Package total" of the old report. 
      3.  Monthly statistical number meaning differently
Old report: the number in "Change from previous month" shows net changes of SCP cataloging

New report: the number in "SCP Managed Previous Month" shows the number of records SCP added or updated which may not add up to the total in "No. of Portfolio (In Repository). The screenshot below shows the number of SCP records added and/or updated in October for JSTOR DDA Collection.
      4.  Material type organized differently:
Old report: break up SCP title hooks by serials, databases, and monographs, and by non-Chinese and Chinese

New report: Collections are in alphabetical order, with "

Material Type

" indicating type of resources included in a collection. 

The second report is the Collection level bib records of CDL-Managed Electronic Collections

This is the statistics showing how many collection level bib records of CDL managed electronic collections have been cataloged by SCP. It has MMS ID of bib records, Title from Bib Record (may not be the same as collection public name), Suppressed from Discovery, Linked to CZ, SCP Managed Title Hooks (930), SCP Managed Previous Month. 

SCP Cataloging Activities

Started to explore and catalog new titles for an existing collection and replace CZ linked bibliographic records with SCP cataloged OCLC records

Wiley Online Library All Journals: 101

Continues to focus on cataloging DDA packages: testing workflow in Sandbox and import records into production: 

JSTOR DDA: 1269

CNPe-Reading DDA: 896

Airiti DDA: 705

Continues to catalog and unsuppress electronic collection level bib records

Added/replaced 94 bibliographic records

Continues to parse out coverage data and update them via portfolio loader in batch. Kate Garvey-Clasby have done the coverage cleanup for the following collections: 

Local-OA

Ansinet online journals

Bentham online journals

Copernicus online journals

Revistas cientificas complutenses online journals

State Public Historical Library (Russia) online journals

Local-L

Late Qing dynasty periodical full-text database (1833-1911)

Taiwan dian zi qi kan fu wu wang = Taiwan electronic periodical services

Udndata-United daily news
What happened to the OA collection I requested to catalog? 
Some of you may wonder the status of your cataloging requests for OA collections. SCP has not forgotten them. We are also waiting for UC Libraries Open Access Resource Management Task Force's recommendations on best practices for managing OA in a shared-system environment. We will keep you posted. 
Meanwhile, the request form was modified slightly at the end to ask you to provide Alma CZ collection ID if available. It will help us process your request. 
Donal O'Sullivan's Retirement.
It is with mixed feelings that I announce Donal O'Sullivan's upcoming retirement in December 2021. His last working day will be Tuesday, November 30, 2021.
Donal joined the Shared Cataloging Program (SCP) in July 2006 performing copy cataloging of electronic monographs and serials for California documents, Lecture Notes in Computer Science, IEEE conference proceedings and IEEE standards. Prior to SCP, Donal worked at the UC San Diego Library as a Serials Specialist, 1999-2003, then as the Documents Ordering and Receiving Specialist, 2003-2006. In July 2003, Donal completed authorship of the Millennium Serials Training Manual.  While created mostly for in-house use this manual was also shared with almost 200 libraries around the world.
At the beginning of his 15-year tenure with SCP, Donal quickly began working creatively to improve work efficiency by developing and revising OCLC macros and exploring batch processes for e-resources. In 2009 he successfully applied batch cataloging strategies to the CDL's first active and large licensed ebook package, Springer eBooks. Since then, Donal has taken on over 150 ebook packages for batch processing, and has managed the majority of licensed and open access ebook collections, including several collections with a large number of titles, such as Naxos Music Library, Biodiversity Heritage Library, O'Reilly, ProQuest U.K. parliamentary papers. House of Commons papers 1801-1900, to name a few. Cataloging statistics reveal that 595,407 of 1,311,833 SCP records before migration were mostly batch cataloged by Donal alone. Donal has been promoting efficiency of cataloging tasks. For example, he developed many OCLC macros for SCP and UCSD catalogers and helped them update the macros after we migrated to Alma. He shared commonly used MarcEdit task lists for batch cataloging with SCP catalogers. Over the years, he shared many of his batch processing strategies and macros with SCP and UC catalogers. His contributions have a positive impact on the overall efficiency of SCP and his UCSD colleagues. 
Donal also played an instrumental role in SCP electronic collection management. In July 2011, he started the Quantifying e-Monos Working Group, a series of working meetings to document the cataloging policy and workflow for processing each electronic collection under CDL's purview.  A daunting task, Donal took the initiative to author the majority of the cataloging workflows, documenting the unique challenges of each collection, keeping up with changes to the collections, and constantly looking for new ways to improve processes. In the spirit of "shared cataloging", Donal organized and maintained these documents to make them available to other catalogers. It was a critical step since each collection presents its own unique challenges and some require constant adjustment to changes over time. It is also helpful in case a backup cataloger needs to step in and/or take over a collection. He organized and managed these collection procedures created by catalogers and posted the documents on a library shared folder (P drive) and confluence website (LiSN). Donal drafted several cataloging policies regarding ebook cataloging. He updated the package status page each month before migration to help catalogers keep track of cataloging for each collection. He also has been managing and maintaining the CDL e-resource tracking page. 
For the UC SILS Project, Donal also served on the UC wide Cataloging and Metadata Expertise Group representing the Shared Cataloging Program as part of the UC Systemwide ILS Project Phase 3 to draft RFP requirements and identify areas requiring policy and procedure harmonization across the UC system from metadata and cataloging perspectives. In addition, Donal started early in the SILS project to help SCP catalogers review and cleanup data in preparation for migration. He was involved in the SILS Phase 4 planning and preparation for migration, learning the Alma system and testing workflows. After migration, he caught up on cataloging of JSTOR ebook DDA titles. 
The list of Donal's accomplishments, contributions, and his impact on UC systemwide discovery and access to CDL managed electronic resources cannot be overstated. He will be sorely missed. We wish all the best in his retirement!
Report an Alma/Primo VE problem: This page was created outlining for campuses on how and when they should report access issues to CDL. It is also linked from CDL's Report a Problem page under "Report a SILS (Alma or Primo VE) Problem".