SCP Update — October 2021
Almost two months have passed since the new UC system go-live on July 27, 2021. Here are some updates from SCP. 
Where have SCP records migrated?  
SCP has prepared and migrated a total of 1,181,113 titles. (Thanks to Kate Garvey-Clasby who has prepared the SCP migration files.)
61,237 titles, about 5% of SCP titles migrated into UCS Network Zone (NZ).
1,119,876 titles, about 95% of SCP titles migrated into CDL institution Zone (CDL IZ), a "parking lot" that SCP records are not discoverable from UC Library Search. SCP can bring records from CDL IZ into UCS NZ as needed. 
Why? SCP records have a large percentage overlapping with records migrated/activated in the Alma Community Zone (CZ) via CDL SFX and 360/ERM. To prevent potential duplication that could have negative impacts on UC Library search, fulfillment, and other library functions, Ex Libris created a silo institution zone for SCP data. SCP can bring SCP records into NZ as needed post-migration. For more details, please check out the SILS decision page.
Note: there are also 196,055 titles of MARCIVE electronic records migrated to UCS Network Zone.
Which SCP records were migrated into the UCS Network Zone? 
Here is the list of collections and databases that migrated into the UCS Network Zone.
39 collections migrated into NZ, they are DDA, Open Access, or Chinese collections. Please see the list under the tab Collections migrated to NZ.
45 databases migrated into NZ. These databases don't have individual title level cataloging. Please see the list under the tab Collections migrated to NZ.
SCP post-migration cleanup
SCP has used the cleanup task lists prepared and recommended by the SILS ILSDC. The remaining tasks are: 
Move standalone portfolios (see definition below) into its designated electronic collection (In progress – see NZ CDL Data Cleanup Project)
Parse out and move coverage data for collections of serials into the coverage page of portfolios (In progress)
Resolve the OpenURL issue for YBP/eBrary DDA purchased titles (In progress)
Cleanup remaining standalone portfolios (On hold-pending on the completion of the first task)
Cleanup 880/930 and 880/6XX
TBD: Removing 920s from SCP records, removing LHR from existing SCP records in OCLC
 Portfolio (Electronic portfolio): Electronic resource (inventory) that maintains the specific coverage (local or global), services, and link information relevant for a particular electronic title that may also be part of an electronic collection. It may include administrative/access information.
Unsuppress collection level bib records
SCP also works with CDL Acquisitions (CDLA) on the suppressed bibliographic records for CZ activated collections (collections that have individual title leve access). (In progress – see NZ CDL Data Cleanup Project).  After CDLA reviews and confirms the collections, 
SCP unsuppresses/replaces CZ bibliographic records with SCP cataloged records. 

SCP also reviews/updates the collection level URL and public notes, so in UC Library Search, anyone can tell if a resource/collection is a CDL managed resource. It will help troubleshoot if any access issue is encountered. See example on

Factiva

.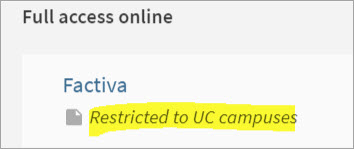 3. SCP is also working with the CDL E-resource Team (ERT) on determining how to address the issue of one-to-many (one bib record for many collections), such as JSTOR. A proposal with three models has shared with SCPAC, AEFG, and RMFG.
SCP Cataloging
Focus on learning.
SCP catalogers are focusing on learning how to catalog in Alma. Transitioning into Alma has been a significant challenge to all SCP catalogers who were skilled in cataloging in the Millennium system. Now we are all at the point of a new beginning and learning from ground zero up on how to catalog in Alma; for example, it used to be an 856 field for a URL/access, now it is a portfolio record to create and provide access to an electronic resource. As part of the CDL e-resource team, SCP catalogers are also learning how to manage e-resources, whether it is a new collection or an ongoing collection, whose responsibilities are on which part of the life cycle management. 
In July 2021, all SCP catalogers took Alma certification training, Annie Ross, Becky Culbertson, Donal O'Sullivan, and Kate Garvey-Clasby received Alma certification. Shi Deng received Alma certification in September 2020. 
Cataloging activities.
SCP catalogers have been cataloging the following as part of learning and developing workflows: 
Manual cataloging: bibliographic records and portfolios

Titles for local OA collections

Titles for collection level bib records

Batch cataloging: bibliographic records and/or portfolios

Bring SCP records from CDL IZ into UCS NZ: both title level and collection level bib records

Collection level records: 39

Title level records: Modern newspaper in China, 1840-1949 online newspapers, 99

Bring new records into UCS NZ: manual cataloging of Local OA collections, batch cataloging of DDA collections (JSTOR, CNPIEC, Airiti)

CNPeReading

CDL

DDA

online

monographs, 1048
Update on staffing change at CDL Collection Development and Management.
Ellen Finnie, Director, Collection Development and Management Program, July 1, 2021

Lisa Mackinder, appointed Interim Assistant Director of Systemwide Licensing, June 25, 2021

Lisa Moske, appointed Coordinator for Shared Content Service Support, September 1, 2021 (formerly Wendy Parfrey's position)

Mark Lawrence Clemente, appointed Open Access Publisher Agreements Manager, September 27, 2021 (formerly Ellen Finnie's position)

In recruitment:

 

Electronic Resource Services Manager (formerly Holly Eggleston's position)

Open Access Data Analyst (formerly Tran Ha's position)
Report an Alma/Primo VE problem: This page was created outlining for campuses on how and when they should report access issues to CDL. It is also linked from CDL's Report a Problem page under "Report a SILS (Alma or Primo VE) Problem"