Introducing: "About the Collections in Calisphere" — a new statement of context and principles
We are writing to introduce "About the Collections in Calisphere," a newly-available statement of context and principles about the historical materials found in the Calisphere website.
Calisphere is a gateway to California's remarkable digital collections, with free access to nearly two million digital primary resource items, from over 300 cultural heritage organizations throughout the state. Through Calisphere, we are committed to providing free access to historical resources for research, teaching, and exploration. We are also committed to making explicit the shared community practices and professional standards that we — along with our contributing partner organizations — consult in broadly sharing historical materials. 
Introducing: "About the Collections in Calisphere"
With researchers in mind as our primary audience, this page articulates the commitments, values, and shared community practices that guide us in:  
Providing core context for how (and why) digital historical resources are made available in Calisphere;
acknowledging historic and ongoing biases in metadata and primary sources, and our commitment to support responsible practices; and
offering clear pathways for users to share relevant information about the primary sources and historical records in Calisphere.

Building on this statement of context, we will be exploring enhancements to the site that emphasize this contextual information on item and collection landing pages to aid researchers in understanding the resources available through Calisphere and, more generally, to promote primary source literacy. As a starting point, we have updated the item record page templates with a supporting context panel alongside the metadata.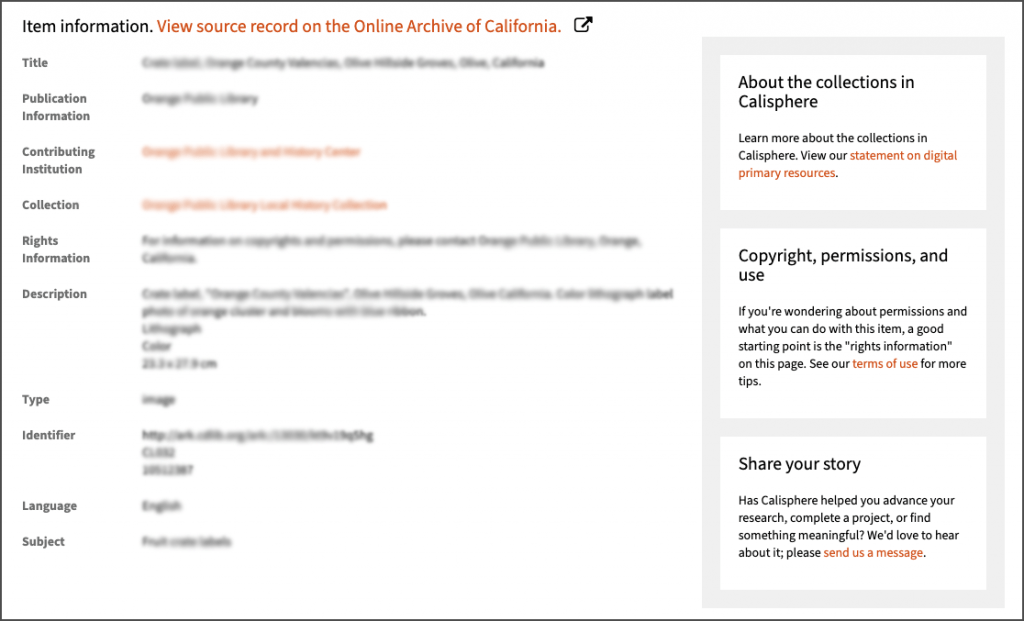 Information sessions: "About the Collections in Calisphere"
We will be holding information sessions for our contributing partners and colleagues to provide additional information about this statement, share information about our upcoming actions and priorities for Calisphere, and outline a communication workflow to confer with contributing partners on relevant user-submitted information. We'd also like to use this time to engage with your ideas, comments, and questions.
Tuesday, May 25 at 1:00 pm
Thursday, May 27 at 11:00 am
Please register for either of these sessions.
Contact us at oacops@cdlib.org if you have any questions. We look forward to discussing further with you!