Cycle 9 (2020) Collection Comparison Reports Now Available
One of the many benefits of WEST membership is the regular collection analysis that feeds our archiving activity; we also share the results of our analysis with members in yearly collection comparison reports as well as the On Demand Comparison tool, both of which can be used to support local collection management projects.
The WEST is pleased to announce that the ninth archiving cycle disclosure process is complete, and the Cycle 9 (2020) annual collection comparison reports are now available for WEST's full members to download in AGUA. Both full and supporting members have access, at any time, to the All Archived Titles Report and On Demand Collection Comparison report in AGUA. 
Collection Comparison Reports – Full Members
If your institution provided records for analysis in fall 2019, a custom collection comparison report has been prepared for you and is available for download in AGUA, WEST's information center.
To create the collection comparison reports, we compare each library's holdings against the WEST archived titles. The 2020 institution-specific reports list all titles held locally that have also been archived by WEST (in Cycles 1-9), but keep an eye out next summer for additional Cycle 9 titles for which disclosure was delayed due to COVID-19. Please note: if your library also serves as an archive holder, your report will not list the titles that your institution has archived locally.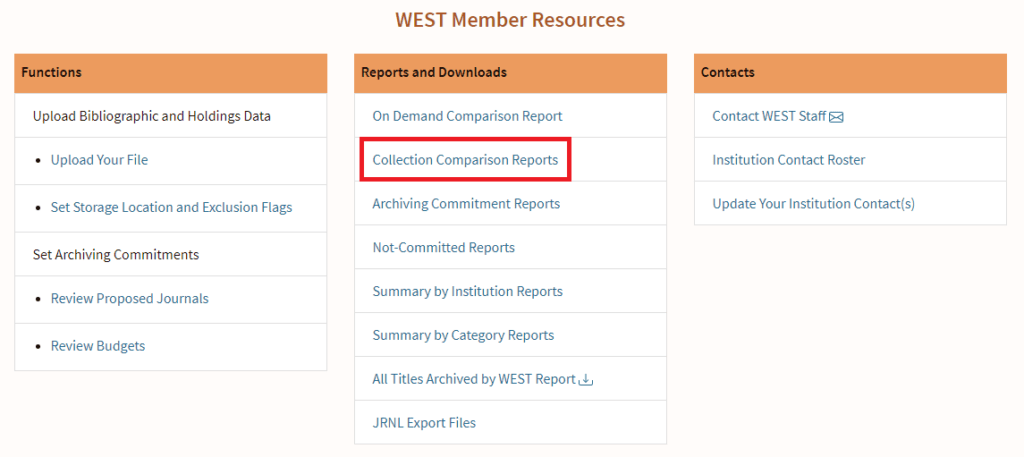 On Demand Comparison Report – Supporting and Full Members
All members have access to the On Demand Collection Comparison report – a capability that allows you to generate a comparison any time of year (not just at the end of the archive cycle) and specify to the journals you want to review locally. To learn more about using this feature, please see this webinar recording (please note that while the interface design has been updated since this webinar was recorded, the instructions for using the On Demand Comparison Report have not). If you would like to view a complete list of WEST archived titles, you can also download the WEST All Archived Titles report in AGUA.