Hiring Announcement for SILS Service Manager
The California Digital Library's Discovery & Delivery program is pleased to welcome Caitlin Nelson as its Systemwide ILS Service Manager, effective July 1, 2020. The role is critical to the implementation and operation of the UC Systemwide ILS, and in it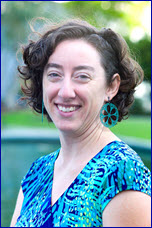 Caitlin will collaborate heavily with UC campus libraries. After an extensive recruitment and interview process, including a presentation to over 200 UC Libraries staff on March 30th, the hiring committee (including Chris Shafer [UCSF] and Robin Gustafson [UCD]) was thrilled to select Caitlin for this role.
Caitlin brings to her new role eleven years of experience with digital library product management for two statewide consortia. She has worked for the California Digital Library as a product manager since 2015. Before that, Caitlin worked as the Digital Library Services Coordinator for the Florida Virtual Campus and as the Digital Initiatives Librarian for the Florida Center for Library Automation. Caitlin earned an MLIS in Library and Information Sciences from the University of Hawai'i at Mānoa, an MA in Japanese from the University of Hawai'i at Mānoa, and a BA in Classics from Yale University.
When not working, you can find Caitlin caring for her two little ones (daughters 3.5 and 2 years old), or indulging in SF/Fantasy books or TV (recommendations welcome!).