Congratulations to Lena Zentall, Discovery and Delivery's new Associate Director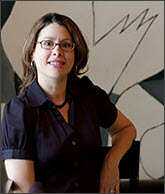 The California Digital Library's Discovery and Delivery program is pleased to welcome our own Lena Zentall to her new role as Associate Director. Lena brings with her eighteen years of experience with CDL, working in various programs and roles including analyst, user experience, collection development, project management, and product management.  Her most recent role with CDL was as the manager for the product team for the Discovery and Delivery program.
Most recently, Lena has been instrumental in the momentum and day to day work on the UC-wide SILS project to bring all 10 campuses into one shared integrated library system.  Lena has also served on the UC President's Advisory Committee on the Status of Women. Lena is a skilled leader, facilitator, and mentor. Her inclusive and transparent approach to conversations and decisions serves as a model for others.
On weekends, you can find Lena hiking in Point Reyes and making nature observations on iNaturalist. She's hiked all 150 miles of trails and shared about it on her Point Reyes Nature website. She also aspires to one day get beyond the very beginner level in studying Mandarin.
Please join us in welcoming Lena to her new role on our team!