New Resource: BungeiShunju Archives
Bungei Shunjū is one of the most popular and influential monthly literary magazines in Japan for almost 100 years. Since founded in 1923, the magazine has been a central venue for numerous contemporary writers to publish their essays, debates, and other literary works, including such major authors as Akutagawa Ryūnosuke (1892-1927), Kume Masao (1891-1952), Kawabata Yasunari (1899-1972), Kobayashi Hideo (1902-1983), and Naoki Sanjūgo (1891-1934).
http://japanknowledge.com/library/      All Campuses (except UCSF) / 4 simultaneous users
The Bungeishunju Archives offers online access to articles by more than 4,000 individuals published between 1923 and 1950 in 323 issues of Bungei shunjū in 90,000 pages in PDF format with full text searching capability. Because the archives is included in JapanKnowledge, users can search a variety of encyclopedias and dictionaries, as well as several other general magazines and specialized journals such as Taiyō (1895-1928), Bungei kurabu (1895-1912), Tōyō keizai Shinpō (1895-1945), and Bijutsu shinpō (1902-1920) all at once.  For this acquisition, eight campuses excluding UCSC and UCSF made contributions.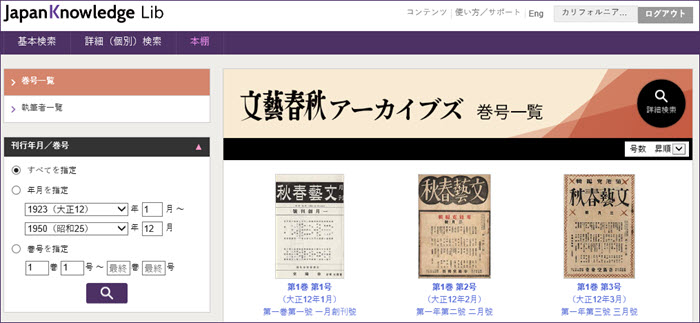 Toshie Marra (tmarra@library.berkeley.edu) is the Resource Liaison for this resource.