The Electrochemical Society Digital Library content moving to IOP Publishing platform 1/2/2020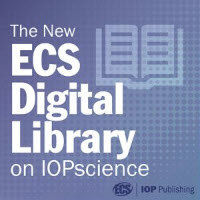 The Electrochemical Society Digital Library content will be available on the IOP Publishing platform starting 1/2/2020.
New content will be added to the IOP platform only going forward.  The ECS sites will continue to be available through 1/31 to provide overlap access while migration of archival content is completed.
Redirects from the ECS sites to the IOP platform will be implemented on 1/31.  Link resolver records to the new platform will be updated/activated as soon as they are available.
Please note: User account information (searches/alerts) saved on the current ECS platform will not be migrated to the IOP platform. Users will need to set up new alerts or sign up for other notification methods. ECS will be sending out a communication to account owners with more information.
More information about ECS' partnership with IOP, and details on the IOP platform itself: https://www.electrochem.org/ecs-blog/ecs-iop-publishing-200-years-of-excellence-in-science-publishing/
Samantha Teplitzky (steplitz@berkeley.edu) is the Resource Liaison for IOPP and ECS.