New Naxos Music Library 3 Debuts
Users of UC-licensed Naxos Music Library are now being redirected to the new Naxos Music Library 3 platform. 
http://uclibs.org/PID/110925     Naxos Music Library       All campuses (except SF), plus LBL
According to the NLM3 platform information, this version incorporates a fresh new look, faster loading times, built in player (no longer a pop up window), new educational resources, and a continually growing library of classical recordings.
New Design
The left sidebar (below) is streamlined (combining New Releases, Recent Additions and News; Composers and Artists; and grouping all educational content in a new group called "Resources"), with a neater, cleaner look.
Player on every page (right, below) which can slide in and out (hidden) with just 1 click, no longer a pop-up, always there.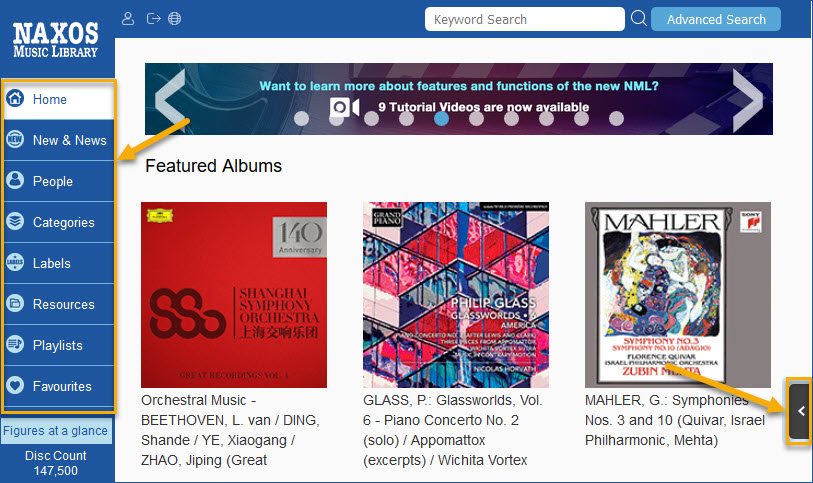 Speed
Loading each page is a lot faster than before, be it opening an album, an artist biography with a list of their recordings, the entire catalogue of a label on the platform, a study guide, a playlist or the list of new releases.
Both Keyword Search and Advanced Search are super-fast, showing results in a split second.
New Functions and Features
Start to play an album right away without having to make a selection first.
Capability to stream videos related to an album.
Users can now add albums / works / tracks to Favorites for easy access.
Add to Play Queue function allows users to play tracks from multiple albums without having to build them into a playlist first.
A dedicated search box on the Composers and Artists section is now available, making it easy and fast to find any particular person.
Content is grouped under 18 main categories making it easy to find recordings that you're particularly interested in.
A brand-new Naxos Musicology section is now available (under Resources). It's a platform for the latest musicological research. Examples of what this offers include: essays on violin-playing, Verdi, Debussy and the politics of race; opinion pieces on "The Future of Listening" and "Ritual Musical Spaces"; and perspectives from composers on their real and imagined musical journeys.
Shortcut keys (hot keys) are available to help users control music playback easily, for both Windows and Apple users.
Note: Videos on using the new interface are available by clicking the video camera icon in the screen footer.
UCSB's Kyra Folk-Farber (kfolk-farber@library.ucsb.edu) is the Resource Liaison for Naxos Music Library.