Changes are afoot for CDL's Mass Digitization team!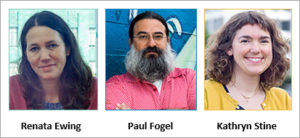 As of Oct. 1, the Publishing & Special Collections team is delighted to welcome Renata Ewing, Paul Fogel, and Kathryn Stine into its ranks. This transition will provide opportunities to expand upon both existing and newly identified common and complementary pursuits across the teams, including strategically developing, managing, and providing non-licensed digital content for researchers at UC and beyond. In light of this transition, Publishing & Special Collections will soon be renaming itself to represent this broader remit. Stay tuned!
In this new configuration, Kathryn Stine will serve as the Senior Product Manager, Digitization & Digital Content, providing strategy and guidance to the team's mass digitization and web archiving programs and initiatives, contributing guidance and coordination to CDL and UC Libraries' programmatic engagement with Hathitrust, and furthering systemwide capacity for digital collection analysis and development. Paul Fogel will continue managing UC's strategic mass digitization partnership with Google along with addressing other large-scale digitization opportunities as Service Manager, Google Books & Content Digitization. As Service Manager, HathiTrust & Digital Content, Renata Ewing will coordinate UC Libraries' digital content and metadata submissions to HathiTrust, promote use of the HathiTrust collection and services through systemwide communication and outreach, and expand access to resources in HathiTrust through rights research and rights management support.
This change of program affiliation positions the team to leverage new opportunities to strengthen connections between book digitization and digitized cultural heritage materials within the Publishing & Special Collections team and also represents a shift in the Collection Development and Management program to focus additional effort on the complex and expanding body of work involved in negotiating and establishing transformative OA publisher agreements. The Collections team thanks Kathryn, Paul and Renata for all their good work and colleagueship over many years as our mass digitization and HathiTrust partnerships have expanded and matured, and wishes them the very best in their new program!