New Resource: MIT Press Direct eBooks, 1943-2019
All UC campuses now have access to MIT Press Direct eBooks; some campuses may have already had access via local subscriptions.
http://uclibs.org/PID/385506    (All campuses, plus LBNL and LLNL; on the MIT Press Direct platform)
MIT Press Direct will make nearly 3,000 ebooks available by the end of 2019, offering a broad range of books from its front- and backlist, including significant works in arts, architecture, biomedical sciences, business, cognitive science, cultural studies, design, digital humanities and new media, economics, education, energy, engineering, environmental science, evolution, game studies, humanities, information science, linguistics, machine learning and AI, neuroscience, and social sciences.
Key features:
• DRM-free: users can print, copy and paste, and download PDFs by chapter
• Unlimited simultaneous users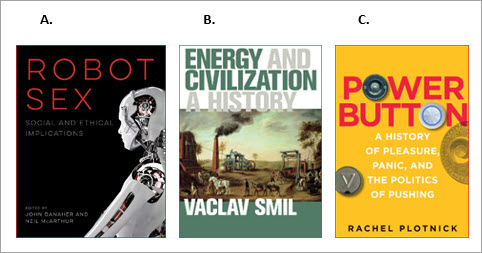 Examples of available ebooks include –
A. Robot Sex: Social and Ethical Implications
B. Energy and Civilization: A History
C. Power Button: A History of Pleasure. Panic, and the Politics of Pushing
2,888 ebook records were distributed to campuses on September 3, 2019.  The remaining titles will be cataloged and distributed as soon as possible.