Anna Striker joins CDL as Shared Print Operations and Collections Analyst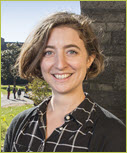 The Collection Development & Management Program welcomes Anna Striker as Operations and Collections Analyst for the Shared Print Team. Anna will coordinate operations, collections analysis, statistics, and reporting for both the Western Regional Storage Trust (WEST) and for UC Libraries' shared print initiatives, such as the Journal Archiving Campaign Service (JACS). As part of her role, Anna will work closely with D2D's AGUA Development Team. Anna will also support WEST and UC participation in cross-regional collaborations like the Rosemont Shared Print Alliance and the Partnership for Shared Book Collections.
Anna comes to the Shared Print Team with extensive project management and library collections experience. For the past six years, Anna worked in the Access Services department of Georgetown University's Lauinger Library, steadily taking on greater responsibility and serving her last three years as Stacks Services Supervisor. As such, Anna demonstrated a talent for planning and coordinating large, complex, cross-departmental projects – including a comprehensive inventory of her library's circulating collection. As Stacks Services Supervisor, Anna has near-hand experience with the existing challenges of managing physical collections and consolidating print through Georgetown's participation in the Washington Research Library Consortium shared print program (WRLC – a Rosemont partner program!). Anna also played an important role in migrating her department to a new ILS (Ex Libris, Alma) as part of the systemwide WRLC migration. Part of her contributions included identifying areas for metadata and workflow harmonization between campuses and the WRLC remote storage facility.
Anna received her BA in English Language and Literature from the University of Virginia and anticipates completing her MLIS at San José State University later this year. She has a strong interest in the international history of cinema and reports spending most of her free time reading on that subject, doing MLIS homework, and petting her dog, Marla (Slack dog_people, we have a new enthusiast!). We could not be more excited to bring her on board – welcome Anna!